Balanced Mind with Julie Potiker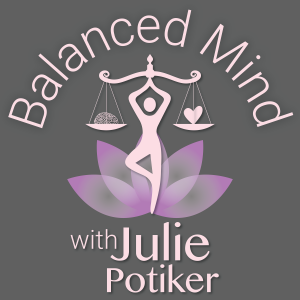 Loving Kindness Guided Meditation
September 03, 2023
This relaxing loving kindness meditation led by Julie Potiker will help you breathe in kindness for yourself and others. She completes the meditation with her poem, "Finery".
Finery, by Julie Potiker


In the late 1940s, and early 1950s, as a teenager, he was impeccably dressed


From stories of elegant supper clubs
I imagine
Ermine and pearls
Cuff links winking in the candlelight


Grandma Esther made her own patterns out of bed sheets
Cut and tailored like a pro
Skill tucked into her skirts as she journeyed across the Atlantic Ocean
between the Great War, and WWII


No wonder her American born son who looked so fine became known as finery.


For 67 years, he and my mom took care in their wardrobe, in their appearance.
Even after she became ill, her body shrinking
Smaller and smaller sized clothes were brought in, some from my closet


I held back some of his shirts when he passed away
Knowing I would want to wear them
To feel the soft cotton on my chest
To sport them as tunics
Cuffs rolled up on my forearms


I shipped a stack in blues and yellows, ocean and sunset colors
to a textile artist who quilted them into a glorious throw blanket
each square a sweet memory


Yesterday I got so many compliments on his shirt
Each comment a gift
As he came alive in my reply


I slid a pair of my mom's post earrings through my earlobes
Just in case she'd notice and feel slighted
Just in case
Just in case she feels how light and uncomplicated my longing for my Dad.
I don't know what her indomitable spirit might see, or feel, or know, or understand.
Find out more about using mindfulness in everyday life through Julie's books, "SNAP: From Calm to Chaos", and "Life Falls Apart, But You Don't have To: Mindful Methods for Staying Calm in the Midst of Chaos". Both are available on Amazon.com.
Follow Julie on YouTube and Facebook at Mindful Methods for Life.com


This podcast is available on iTunes, iHeart, Blubrry and everywhere you listen to podcasts.
---
Download Episode