From Paper To People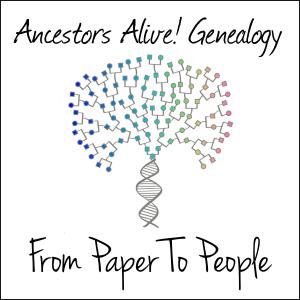 Get Lost, 2021 - Hello, #BioADay2022!
December 29, 2021
2021 is definitely in the running for my least favorite year EVER! It has given me reason to reexamine what I'm doing, however, both with the podcast and with my own work. Join me for a list of thank-you's, and for an introduction of the quickest, easiest solution I've found so far to distractions, brick walls, and the genealogy blues - #BioADay2022. Let's join together to hold one another accountable as we actively learn more about our ancestors by generating and augmenting short (as in, 2-minute) biographies for ancestors using Ancestry with FamilySearch and WikiTree. 2022 is not going to start off as an easy year, but we can help one another through it together and get higher-quality research out of it as a squadron than we might flying solo. Thank you for being with me in 2021 - now, on to 2022!
You can join my Facebook group by visiting this page for the link.
Please follow my YouTube channel here - I will be doing more videos face to face, and perhaps even some live, with chat and everything!
Please rate and review the podcast on your podcast provider, at https://apple.co/2MLZW4H, or at facebook.com/AncestorsAliveGenealogy.
If you want to be on the podcast from ANYWHERE IN THE WORLD using the Zoom platform and a good mic and earphones (how about that Family Cookbook series??), you can contact me at https://bit.ly/2Kxb6rm.
Stop by the website at ancestorsalivegenealogy.com, IG @fppppodcast, Clubhouse @ancestorsalive and Twitter at both @fpppppodcast and @ancestorsalive
Sponsor the podcast at patreon.com/AncestorsAlive for super-fantastic rewards, including SWAG for different levels of sponsorship AND monthly polls that yield even more SWAG. Support levels start at $5/mo.
Subscribe to the newsletter.
Check out my Zazzle shop at zazzle.com/store/fppppodcast for the aforementioned swag.
Subscribe: Audible | Blubrry | GoodPods | iHeartRadio | iTunes/Apple | Pandora | Soundcloud | Spreaker | Stitcher
---
Download Episode