From Paper To People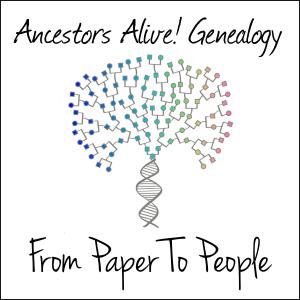 Announcement - Record Family Holidays on Zoom!
November 24, 2020
This is not an episode so much as an announcement: it's holiday time and that means it's time for taking folklore! But, with the increased need to stay home and separate, and with more people than ever relying on devices and video chat to communicate with family, why not see this as an opportunity to use Zoom.us to not only communicate, but to record family members telling stories? Look to your elders. Show photos. Ask questions. Find out everything that you can NOW, while the focus is on family, safety, and reflection. Below (at ancestorsalivegenealogy.com) please find a terrific video I found on YouTube, a step-by-step how-to on recording Zoom calls.
Enjoy the holiday season, buckle up for a cold and long Winter, and stay safe. Keep in touch with your family and help your elders to understand how much you value their knowledge and stories.
You can join my Discord server and Facebook group by visiting this page for links.
Please follow my YouTube channel here - I will be doing more videos face to face, and perhaps even some live, with chat and everything!
Please rate and review the podcast on your podcast provider, at https://apple.co/2MLZW4H, at facebook.com/AncestorsAliveGenealogy, or at Thumbtack.com.
If you want to be on the podcast from ANYWHERE IN THE WORLD using the Zoom platform and a good mic and earphones (how about that Family Cookbook series??), you can contact me at https://bit.ly/2Kxb6rm.
Stop by the website at ancestorsalivegenealogy.com, IG @ancestorsalivegenealogy and Twitter @ancestorsalive
Sponsor the podcast at patreon.com/AncestorsAlive for super-fantastic rewards, including SWAG for different levels of sponsorship.
Subscribe to the newsletter at paper.li/AncestorsAlive/1557599531.
Check out my Zazzle shop at zazzle.com/store/fppppodcast for the aforementioned swag.
Subscribe: RSS | Acast | Apple Podcasts | iHeartRADIO | Listen Notes| Soundcloud| Spotify| Spreaker| Stitcher| YouTube| TuneIn | Deezer
---
Download Episode