From Paper To People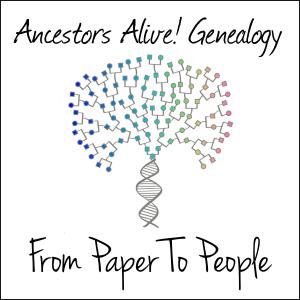 Interview with Brian Sheffey about AncestryDNA
July 24, 2020
This episode is super-sized, because the topic is that important: racism in genealogy and the new AncestryDNA policy that will eliminate all matches below 8cM for all users. I mention the multiple hacks and security breaches on genealogy and DNA websites within the past week, too. But more than anything, this episode allows my cousin, Brian Sheffey, to discuss his experience with multi-ethnic DNA matches and finding evidence of the identities of white ancestors among free black and enslaved ancestors in the late 17th and early 18th centuries. This is why I am upset about Ancestry's tone-deaf policy - it will wreak havoc on research among a population that already suffers from a comparative dearth of records or limited access to the documentary record. It also has the potential to affect those researching remote foundlings, adoptees and other unknown parentage cases. I believe that the decision Ancestry has made is evidence of the lack of diversity among their management and leadership, something that Ancestry's CEO promised to change when he voiced support for Black Lives Matter on June 3rd. Listen, learn, and make up your mind about the subjects we discuss.
You can join my Discord server and Facebook group by visiting this page for links.
Please follow my YouTube channel here - I will be doing more videos face to face, and perhaps even some live, with chat and everything!
Please rate and review the podcast on your podcast provider, at https://apple.co/2MLZW4H, at facebook.com/AncestorsAliveGenealogy, or at Thumbtack.com.
Hire me for American genealogical research, teaching, and forensic genealogy at ancestorsalivegenealogy.com. Only $50/hr, with a free 20-minute consultation!
If you want to be on the podcast from ANYWHERE IN THE WORLD using the Zoom platform and a good mic and earphones (how about that Family Cookbook series??), you can contact me at https://bit.ly/2Kxb6rm.
Stop by the website at ancestorsalivegenealogy.com, IG @ancestorsalivegenealogy and Twitter @ancestorsalive
Sponsor the podcast at patreon.com/AncestorsAlive for super-fantastic rewards, including SWAG for different levels of sponsorship.
Subscribe to the YouTube channel at https://bit.ly/2lmhYha and the newsletter at paper.li/AncestorsAlive/1557599531.
Check out my Zazzle shop at zazzle.com/store/fppppodcast for the aforementioned swag.
Subscribe: RSS | Acast | Apple Podcasts | iHeartRADIO | Listen Notes | Soundcloud | Spotify| Spreaker| Stitcher| YouTube | TuneIn | Deezer
---
Download Episode