From Paper To People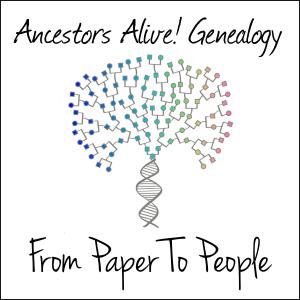 George P Penn - A Little Weekend Hygienealogy
March 06, 2020
This episode is both a video and the soundtrack of that video. Normally, my videos are for Patreon subscribers only, but I thought that this quick little how-to about verifying qualifying patriots for the Daughters of the American Revolution, cleaning up their profiles in Ancestry, and using pixlr.com to make each one a unique profile photo would be interesting to a lot of people.
But please, if you find value in this podcast, support me for a few dollars a month at patreon.com/ancestorsalive. It takes time and money to do all that I do.
Ultimately, I think you'll want to watch the video (which is captioned in English), but enjoy the audio as well!
Please rate and review the podcast on your podcast provider, at https://apple.co/2MLZW4H, at facebook.com/AncestorsAliveGenealogy, or at Thumbtack.com.
Hire me for American genealogical research, teaching, and forensic genealogy at ancestorsalivegenealogy.com.
If you want to be on the podcast from ANYWHERE IN THE WORLD using the Zoom platform and a good mic and earphones (how about that Family Cookbook series??), you can contact me at https://bit.ly/2Kxb6rm.
Stop by the website at ancestorsalivegenealogy.com, IG @ancestorsalivegenealogy and Twitter @ancestorsalive
Sponsor the podcast at patreon.com/AncestorsAlive for super-fantastic rewards, including SWAG for different levels of sponsorship.
Subscribe to the YouTube channel at https://bit.ly/2lmhYha and the newsletter at paper.li/AncestorsAlive/1557599531.
Check out my Zazzle shop at zazzle.com/store/fppppodcast for the aforementioned swag.
Subscribe: RSS | Acast | Apple Podcasts | iHeartRADIO | Listen Notes| Soundcloud | Spotify | Spreaker | Stitcher | YouTube | TuneIn | Deezer
---
Download Episode