From Paper To People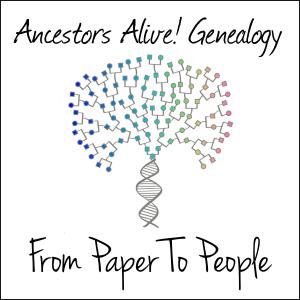 Folklore with My Father
February 17, 2020
Join me in welcoming Katie Andrews Potter as the newest Root-level supporter on Patreon. She's getting a logo shot glass in May! You can join her with monthly support for all of my work at patreon.com/ancestorsalive.
Back in October, I had a chat with my dad. I took a few stories from him as we discussed the differences between our childhoods. He gave me some facts, some opinions, and we discussed the importance of discretion in utilizing folklore. My dad's a brilliant and funny guy, so I hope you'll enjoy this episode!
Please rate and review the podcast on your podcast provider, at https://apple.co/2MLZW4H, at facebook.com/AncestorsAliveGenealogy, or at Thumbtack.com.
Hire me for American genealogical research, teaching, and forensic genealogy at ancestorsalivegenealogy.com.
If you want to be on the podcast from ANYWHERE IN THE WORLD using the Zoom platform and a good mic and earphones (how about that Family Cookbook series??), you can contact me at https://bit.ly/2Kxb6rm.
Stop by the website at ancestorsalivegenealogy.com, IG @ancestorsalivegenealogy and Twitter @ancestorsalive
Sponsor the podcast at patreon.com/AncestorsAlive for super-fantastic rewards, including SWAG for different levels of sponsorship.
Subscribe to the YouTube channel at https://bit.ly/2lmhYha and the newsletter at paper.li/AncestorsAlive/1557599531.
Check out my Zazzle shop at zazzle.com/store/fppppodcast for the aforementioned swag.
Subscribe: RSS | Acast | Apple Podcasts | iHeartRADIO | Listen Notes | Soundcloud | Spotify | Spreaker | Stitcher | YouTube | TuneIn | Deezer
---
Download Episode