From Paper To People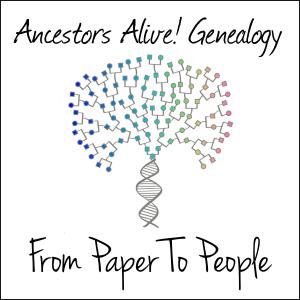 Naming Babies from Your Tree, aka Don't Make Your Baby Hate You
October 08, 2019
Mormons, do you have nine 1st cousins, all of whom are named Brigham? Non-Mormons, are you considering Kayden, Jayden, Rayden and iPod as names for your next child? STOP THE MADNESS! Follow your family history pied piper and I will lead you to consider some better sources for baby names. Well, one better source: your own family history. Genealogy can help you to get to know your ancestors in so many ways, but none is more satisfying than naming a child for an ancestor, and then telling that ancestor's story when you tuck in your child at night. After all, genealogy may be about precision and research, but to what end? To have a family to discuss, and roots from which to grow. Listen in and we'll talk about some scary current naming trends, and how using your ancestral naming forms, not to mention place names where your family once lived, can provide rich resources for ancestral appreciation in current and future generations.
Please rate and review the podcast on your podcast provider, at https://apple.co/2MLZW4H, at facebook.com/AncestorsAliveGenealogy, or at Thumbtack.com.
Hire me for American genealogical research, teaching, and forensic genealogy at ancestorsalivegenealogy.com. Only $50/hr, with a free consultation!
If you want to be on the podcast from ANYWHERE IN THE WORLD using the Zoom platform and a good mic and earphones (how about that Family Cookbook series??), you can contact me at https://bit.ly/2Kxb6rm.
Stop by the website at ancestorsalivegenealogy.com, IG @ancestorsalivegenealogy and Twitter @ancestorsalive
Sponsor the podcast at patreon.com/AncestorsAlive for super-fantastic rewards, including SWAG for different levels of sponsorship.
Subscribe to the YouTube channel at https://bit.ly/2lmhYha and the newsletter at paper.li/AncestorsAlive/1557599531.
Check out my Zazzle shop at zazzle.com/store/fppppodcast for the aforementioned swag.
Subscribe: RSS | Acast | Apple Podcasts | iHeartRADIO | Listen Notes | Soundcloud | Spotify | Spreaker| Stitcher| YouTube | TuneIn | Deezer
---
Download Episode