From Paper To People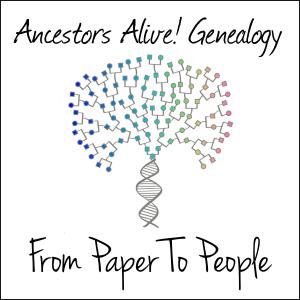 The Family Cookbook - My Saucy Grandma
September 25, 2019
My mother's mother, Ga, was a quiet, staid woman. She was peaceful, smiling, a model DAR and Midwestern sorority sister. But underneath it all...she was SAUCY. In this episode, I'll give you some of my grandmother's "International" sauce recipes (because sauce was a staple on her dinner table), and the reasons why I think her self-written attempts at international cuisine reveal a bit about who she was and the time and place that produced her.
Please rate and review the podcast on your podcast provider, at https://apple.co/2MLZW4H, at facebook.com/AncestorsAliveGenealogy, or at Thumbtack.com.
Hire me for American genealogical research, teaching, and forensic genealogy at ancestorsalivegenealogy.com. Only $50/hr, with a free consultation!
If you want to be on the podcast from ANYWHERE IN THE WORLD using the Zoom platform and a good mic and earphones (how about that Family Cookbook series??), you can contact me at https://bit.ly/2Kxb6rm.
Stop by the website at ancestorsalivegenealogy.com, IG @ancestorsalivegenealogy and Twitter @ancestorsalive
Sponsor the podcast at patreon.com/AncestorsAlive for super-fantastic rewards, including SWAG for different levels of sponsorship.
Subscribe to the YouTube channel at https://bit.ly/2lmhYha and the newsletter at paper.li/AncestorsAlive/1557599531.
Check out my Zazzle shop at zazzle.com/store/fppppodcast for the aforementioned swag.
Subscribe: RSS | Acast | Apple Podcasts | iHeartRADIO | Listen Notes | Soundcloud | Spotify | Spreaker| Stitcher| YouTube | TuneIn | Deezer
---
Download Episode