From Paper To People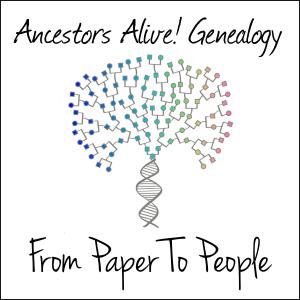 Share Your Skelly Rellies!
September 15, 2019
It's almost Halloween, my favorite time of year, and that means it's time for stories about your Skelly Rellies! This is your opportunity to be on the podcast without worrying about a full interview - just record a family story on your phone and send it to me at ancestorsalivegenealogy@gmail.com. I'll edit it together with the others I receive and we'll have us an episode all about listeners' ancestors. Don't be scared, there's nothing to it! At any time of day, from anywhere in the world, you can be a part of Skelly Rellies. Deadline for submissions is October 26th. Time to GET SPOOPY!
Please rate and review the podcast on your podcast provider, at https://apple.co/2MLZW4H, at facebook.com/AncestorsAliveGenealogy, or at Thumbtack.com.
Hire me for American genealogical research, teaching, and forensic genealogy at ancestorsalivegenealogy.com. Only $50/hr, with a free consultation!
If you want to be on the podcast from ANYWHERE IN THE WORLD using the Zoom platform and a good mic and earphones (how about that Family Cookbook series??), you can contact me at https://bit.ly/2Kxb6rm.
Stop by the website at ancestorsalivegenealogy.com, IG @ancestorsalivegenealogy and Twitter @ancestorsalive
Sponsor the podcast at patreon.com/AncestorsAlive for super-fantastic rewards, including SWAG for different levels of sponsorship.
Subscribe to the YouTube channel at https://bit.ly/2lmhYha and the newsletter at paper.li/AncestorsAlive/1557599531.
Check out my Zazzle shop at zazzle.com/store/fppppodcast for the aforementioned swag.
Subscribe: RSS | Acast | Apple Podcasts | iHeartRADIO | Listen Notes | Soundcloud | Spotify | Spreaker| Stitcher| YouTube | TuneIn | Deezer
---
Download Episode