From Paper To People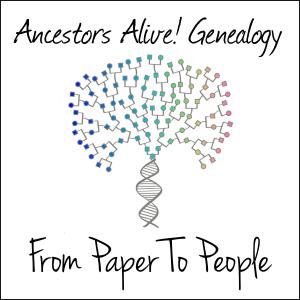 What If Ancestry Takes Out a Loan - Being Prepared
August 16, 2019
Don't be alarmed, but I'm about to alarm you. A little. Well, I'm going to make you think a bit, anyway. Nothing will happen tomorrow, but it sounds like Ancestry's parent company, Permira Advisers LLP, is willing to take out a very risky loan in order to fund a move that would denude Ancestry of $900 million. Yikes. I learned this from an article in Bloomberg, which you can read for yourself and assess: Ancestry.com Owners Aim to Extract $900 Million Payout With Loan. I was fueled by concern and milk chocolate today, so I recorded this one without a script or a net!  If I made errors in my ill-educated understandings or assumptions about markets, economics, finance or financial risk, feel free to contact me and I'll include POLITE comments in the next episode (don't be a Jeffrey, mmkay?). In this episode, I'll discuss what I think they're thinking, and what we should be considering and doing as genealogists, family historians and researchers to keep our work safe day to day.
Please rate and review the podcast on your podcast provider, at https://apple.co/2MLZW4H, at facebook.com/AncestorsAliveGenealogy, or at Thumbtack.com.
Hire me for American genealogical research, teaching, and forensic genealogy at ancestorsalivegenealogy.com. Only $50/hr, with a free consultation!
If you want to be on the podcast from ANYWHERE IN THE WORLD using the Zoom platform and a good mic and earphones (how about that Family Cookbook series??), you can contact me at https://bit.ly/2Kxb6rm.
Stop by the website at ancestorsalivegenealogy.com, IG @ancestorsalivegenealogy and Twitter @ancestorsalive
Sponsor the podcast at patreon.com/AncestorsAlive for super-fantastic rewards, including SWAG for different levels of sponsorship.
Subscribe to the YouTube channel at https://bit.ly/2lmhYha and the newsletter at paper.li/AncestorsAlive/1557599531.
Check out my Zazzle shop at zazzle.com/store/fppppodcast for the aforementioned swag.
Subscribe: RSS | Acast | Apple Podcasts | iHeartRADIO | Listen Notes | Soundcloud | Spotify | Spreaker| Stitcher| YouTube | TuneIn | Deezer
---
Download Episode