From Paper To People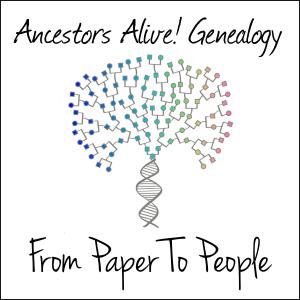 The Family Cookbook - Cakes and More Cakes
June 21, 2019
Today we have a new Patron, and new law in New York that will shake up the ENTIRE GENEALOGY WORLD - even outside the United States - the Weprin-Montgomery Law. Oh, and we have two brilliant cake recipes. One is from an Army wife friend of my grandmother's in the 1940s or 1950s, but the other is genuinely the oldest recipe I've been able to find in my family's trove.if you If you like apple cake or chocolate cake (or both), you are in the right place. Get ready to take notes, because these are fantastic recipes that you will not find elsewhere! And remember, if you want to have yours on the show, send them in to me, or contact me and you can come on the show to present them and the ancestors from whom they originate.
Please rate and review the podcast on your podcast provider, at https://apple.co/2MLZW4H, at facebook.com/AncestorsAliveGenealogy, or at Thumbtack.com.
Hire me for American genealogical research, teaching, and forensic genealogy at ancestorsalivegenealogy.com. Only $50/hr, with a free consultation!
If you want to be on the podcast from ANYWHERE IN THE WORLD using the Zoom platform and a good mic and earphones (how about that Family Cookbook series??), you can contact me at https://bit.ly/2Kxb6rm.
Stop by the website at ancestorsalivegenealogy.com, IG @ancestorsalivegenealogy and Twitter @ancestorsalive
Sponsor the podcast at patreon.com/AncestorsAlive for super-fantastic rewards, including SWAG for different levels of sponsorship.
Subscribe to the YouTube channel at https://bit.ly/2lmhYha and the newsletter at paper.li/AncestorsAlive/1557599531.
Check out my Zazzle shop at zazzle.com/store/fppppodcast for the aforementioned swag.
Subscribe: RSS | Acast | Apple Podcasts | iHeartRADIO | Listen Notes | Soundcloud | Spotify | Spreaker| Stitcher| YouTube | TuneIn | Deezer
---
Download Episode