From Paper To People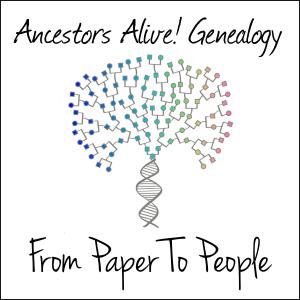 Get Out of Your Head!
May 18, 2019
No, seriously, get out of your head, Whenever you hit a brick wall, a Jeffrey, a Jeffreytina, one of Ancestry's infamous hang-ups, someone who's a 125cM match on AncestryDNA but who won't build a tree (but asks YOU to do it for him/her), or the documents start swimming before your eyes, it's time to STEP AWAY FROM THE COMPUTER and get out of your head and into your body. Or, at least, get into a different part of your head. This episode discusses some of the ways that I step back in order to get straight, and the rules I've set for myself in order to stay sane on a day-to-day basis while trying to get healthy, record a podcast, run a bunch of Facebook groups, manage my Twitter, manage a new newsletter, Patreon, my Facebook page and, of course, my Ancestry and AncestryDNA while starting The Reparational Genealogy Project. You may not need the rules that I need, but it's good to talk about solutions when we spend so much time talking about the problems of burnout, 18-hour rabbit holes, too much coffee and jet lag from conference travel. Listen, and see if any of the solutions I suggest make sense for you.
Please rate and review the podcast on your podcast provider, at https://apple.co/2MLZW4H, at facebook.com/AncestorsAliveGenealogy, or at Thumbtack.com.
Hire me for American genealogical research, teaching, and forensic genealogy at ancestorsalivegenealogy.com. Only $50/hr, with a free consultation!
If you want to be on the podcast from ANYWHERE IN THE WORLD using the Zoom platform and a good mic and earphones (how about that Family Cookbook series??), you can contact me at https://bit.ly/2Kxb6rm.
Stop by the website at ancestorsalivegenealogy.com, IG @ancestorsalivegenealogy and Twitter @ancestorsalive
Sponsor the podcast at patreon.com/AncestorsAlive for super-fantastic rewards, including SWAG for different levels of sponsorship.
Subscribe to the YouTube channel at https://bit.ly/2lmhYha and the newsletter at paper.li/AncestorsAlive/1557599531.
Check out my Zazzle shop at zazzle.com/store/fppppodcast for the aforementioned swag.
Subscribe: RSS | Acast | Apple Podcasts | iHeartRADIO | Listen Notes | Soundcloud | Spotify | Spreaker| Stitcher| YouTube | TuneIn | Deezer
---
Download Episode