Heart to Heart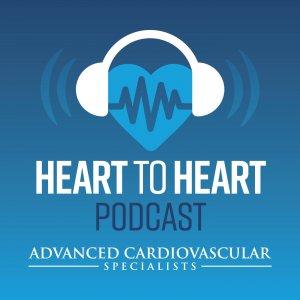 Latest Episodes

August 10, 2020
Most people have heard of cardiac catheterization, a procedure designed to diagnose and treat cardiovascular problems. What you may not know is that there are options when it comes to where the catheter is inserted.

July 27, 2020
Have you ever wondered how cardiologists prepare for their day? In this week's "Heart to Heart" episode, we get the scoop from Dr. Trey Baucum. What's it like being called to a cardiac emergency? How do cardiologists at ACS prepare for difficult proced...

July 13, 2020
The Vein Center at Advanced Cardiovascular Specialists offers a full spectrum of diagnostic testing and treatment options for venous conditions. In this week's episode, Dr. Ray Smith discusses the importance of healthy veins and arteries,

June 29, 2020
Atrial Fibrillation, or AFib, is an irregular heartbeat that can increase the risk for stroke, heart failure and other heart complications. In this episode, Dr. Srikar Veerareddy provides an overview, treatment options,

June 15, 2020
Coronary Artery Disease is a serious medical condition that is often linked to family history. In today's episode, we sit down with Dr. Bill Haynie to discuss the risk factors, ways to reduce risk, and treatment options associated with Coronary Artery ...

May 18, 2020
Angina is a symptom of a larger issue within the body: significant obstruction in the coronary artery. In today's episode, we sit down with Dr. Bill Haynie to explore the characteristics of Angina and the treatment options available.

May 07, 2020
Over a month after our initial COVID-19 podcast, we continue to learn about the virus and how it may impact the future. What has our approach meant for the healthcare landscape? What will cardiac emergencies look like in the foreseeable future? Dr.

May 04, 2020
According to the American Heart Association, the number of people diagnosed with heart failure is projected to increase 46 percent by 2030. Today, we sit down with Dr. Jimmy Smith to discuss heart failure, signs and symptoms, and treatment options.

April 20, 2020
Syncope, also known as "fainting" or "passing out," is the temporary loss of consciousness. Syncope can be caused by various factors, most often low blood pressure. It is important to recognize the signs and symptoms,