Breaking Barriers, Building a Hire Ground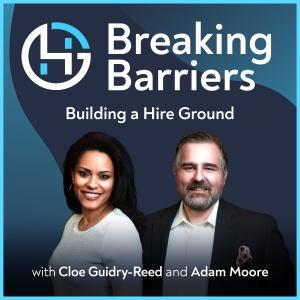 How Small MBEs Can Close the Government Contracting Gap with Reena Bhatia and Charles James of ProposalHelper
November 22, 2022
Reena Bhatia is an advisor, founder, and Chief Proposal Architect of ProposalHelper, one of the first companies to offer fixed-price proposal support services. Reena founded ProposalHelper with the intent of helping small businesses—especially minority-owned businesses—have their proposals be on the same playing field as bigger competitors.
Charles James is ProposalHelper's Business Solution Manager, and his role is to help clients win more opportunities and maintain a competitive edge. Before working with ProposalHelper, Charles was the Assistant Vice President of the finance group, SouthStar Capital.
Reena and Charles join us today to describe how ProposalHelper assists small businesses. They explain the challenges of being a small fish in a big pond, especially when everyone is vying for the same resources. They discuss why they have a much higher win ratio than their competitors. Reena and Charles also share how small businesses can all work together to ensure each one gets their fair share of large contracts.
"It's shocking how many small businesses lose out because they don't follow through with that proposal." - Reena Bhatia
This week on Breaking Barriers:
●     What ProposalHelper is and how it came to be
●     How Charles connected with ProposalHelper
●     ProposalHelper's projects and how they plan to dominate the industry
●     The struggles of expanding as a small business
●     Untangling the government bureaucracy for small businesses
●     Why their win rate is higher than their competitors
●     The last thing a small business needs
●     The best time to hire ProposalHelper for your business
●     Certifications and how they boost your proposals
●     How small businesses can improve the ecosystem altogether
Connect with Reena Bhatia:
Connect with Charles James:
●     BidExecs
●     Email: charles@proposalhelper.com
This podcast is brought to you by Hire Ground
Hire Ground is a technology company whose mission is to bridge the wealth gap through access to procurement opportunities. Hire Ground is making the enterprise ecosystem more viable, profitable, and competitive by clearing the path for minority-led, women-led, LGBT-led, and veteran-led small businesses to contribute to the global economy as suppliers to enterprise organizations.
For more information on getting started please visit us @ hireground.io today!
If you enjoyed this episode, please subscribe and leave a review wherever you get your podcasts.
Apple Podcasts | TuneIn | GooglePlay | Stitcher | Spotify
Be sure to share your favorite episodes on social media and join us on Facebook, Twitter, and LinkedIn.
---
Download Episode