WellSeekers with Lucia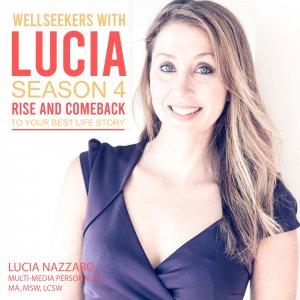 Attachment Theory: How To Change Your Attachment Style! Part 3 of 3
October 29, 2020
We are back to wrap up this conversation on Attachment! Attachment theory discusses the emotional bond between two people, and based primarily on early childhood experiences, discusses the way partners express their needs and show up in their relationships. The four main styles are: secure, anxious, avoidant, or disorganized.
So what are these attachment styles and what do they mean? How do you show up and relate to your partner? How does your partner relate to you? Do you ever experience a push/pull and cannot figure out why?
On today's show Dr. Chelsea Page, DHS, LPC, MS joins Lucia as we conclude this three part series on Attachment: What it is, how to identify your style and your partners, and ways to change styles as well. This is a MUST for anyone struggling with relationships, their partner, or wanting to know more about how to find and feel better in love.
Welcome Back Family!
----------------------------------------
Lucia at Night is a retreat and a treat for your day. A place to laugh, connect, and learn to love yourself and others more well. Lucia at Night talks about relationships, health and wellness topics, with personal stories, and expert advice, musical guests and so much more. Also go behind the scenes in Lucia's personal life with her friends, family and of course her relationships. Close the door on your day, and light up your night with Lucia at Night!
Lucia Nazzaro, MA, MSW, LCSW, is an Emmy nominated multi-media storyteller, professor and expert. She works to create ways to help individuals & society find their story of well with a special focus on how we can rise and comeback from life transitions (both considered positive and negative), relationship issues, and issues that surround the human condition and ways to thrive in the face of adversity and challenge.
---
Download Episode