WellSeekers with Lucia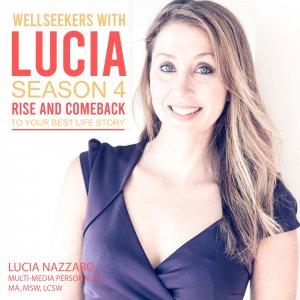 Anxiety in 2020: Tools and Solutions to Rise & Comeback to a Mind & Life You Will Love
October 25, 2020
We are back with episode two to talk real and practical ways to help your anxiety in 2020. Last week we discussed what anxiety is and why it is one the rise. This week we are giving you the tools and solutions to manage it.
Mental Health America has reported an almost 400% increase in people reaching out to use their screening tools for anxiety and depression (https://screening.mhanational.org/); and the anxiety that has been created seems to be intensifying and augmenting. So what can we do?
Join Lucia Nazzaro and her guest Sharon Lawrence, LCSW and therapist for therapists, professionals and couples, as we continue this series on Anxiety in 2020: How to Rise & Comeback to A Mind and Life You Love, even in the face of all of this adversity!
For more about Sharon find her on Facebook, Instagram, Twitter and Pinterest @MySelahWellness and visit his website https://myselahwellness.com/
----------------------------------------
WellSeekers with Lucia is a podcast exploring how to find your own story of well from the mind down focusing on holistic mental and emotional health, relationships, and wellness topics.
Lucia Nazzaro, MA, MSW, LCSW, is an Emmy nominated multi-media storyteller, professor and expert. She works to create ways to help individuals & society find their story of well with a special focus on how we can rise and comeback from life transitions (both considered positive and negative), relationship issues, and issues that surround the human condition and ways to thrive in the face of adversity and challenge.
---
Download Episode