The Surgical Fiction Podcast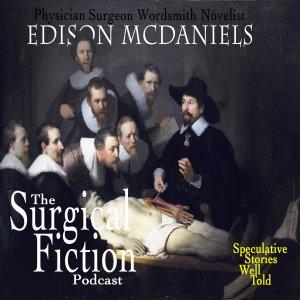 Latest Episodes

March 31, 2020
Listen to the Prologue for my latest narration right now on THE SURGICAL FICTION PODCAST. Golgotha Falls, a novel by Frank De Felitta. Golgotha Falls lies in a desolate and blighted valley in Northern Massachusetts where, in 1919, Father Bernard K.

March 27, 2020
In Voices of the Dead, by John Babb, the story of the Yellow Fever epidemic of 1878 is told in vivid detail and stunning prose. Babb is a retired Rear Admiral in the US Public Health Service, and is that rare combination of scientist writer who really ...

March 26, 2020
Many believe this to be the finest short story on the subject of precognition ever written. You be the judge. At less than 15 minutes, it's certainly worth a listen. Read by Edison McDaniels. Visit Edison McDaniels online at surgicalfiction.com,

March 26, 2020
An ancient skull gradually subsumes Dr. Jolly Frye's time, talents—and mind. Is it possession, madness, or something else altogether? An all new tale of exquisite surgical fiction from the mind of Edison McDaniels. Read by the author.

March 26, 2020
An Endless Array of Broken Men, a novella by Edison McDaniels, is the impetus for my series of full length novels, THE GETTYSBURG TRILOGY. This novella received honorable mention in The Seventeenth Edition of the Year's Best Fantasy and Horror (2003).