Small Business Talk Cathy Smith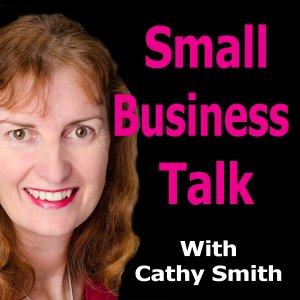 Latest Episodes

August 20, 2020
How to Focus the Human Aspect of Your Business Make Your Business Better. Have a Meaningful Mission, For companies to develop a good mission, a good purpose, it needs to be meaningful and not only focus only on profits. A business should focus on bringin

August 12, 2020
touched on SEO. I have had a few requests to explain further about SEO, Search Engine Optimisation. What is it and why is SEO important for your website. So today, let's talk about SEO. How to Get Found on Google, On-Page SEO, Customer Focused, Off-Page

August 05, 2020
Cathy Smith from CATCO Enterprises tells us about website essentials what your website really needs when the tables are turned and our host becomes the guest. Learn some of Cathy's insights on websites and after having run a successful marketing business

July 29, 2020
Being Busy Might Be Ruining Your Business! Busy for Busy Sake​.What Did You Do Today?​ Classic Time Waster or Busywork​. Listen to episode 078 of Small Business Talk to find out more.

July 22, 2020
"No matter your industry, no matter the problem you are trying to solve for someone, you must learn how to be a great listener. Business owners are often stressed, particularly in the current economy, and I've guided some through really high-pressure situ

July 16, 2020
Digital Marketing is a very broad subject here are some tips that you won't want to miss. Today I pose 5 digital marketing questions that I get asked all the time and give you answers and tips that you can use in your business.

July 08, 2020
Listen to Small Business Talk podcast episode 75 for all Michael Griffiths' tips on How to Create a Million Dollar Referral System for Your Business

July 04, 2020
Should I Use Hastags on Facebook in 2020. Finally, Facebook is coming to the party with hashtags. Search has always been a big problem for Facebook and they are finally going to embrace hashtags as a way to help their audience search through Facebook gig

June 25, 2020
Take Advantage of the Current Opportunities for Your Business

June 18, 2020
What to Post on Social Media by Cathy Smith. Our attention span is smallest than a gold fish now which is really sad. Now, we need 20-30 touch points before making a buying decision. Make sure you are consistently posting so that they stay top of mind. Ch