Small Business Talk Cathy Smith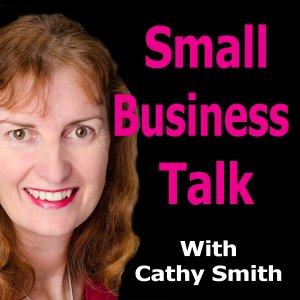 Latest Episodes

July 08, 2020
Listen to Small Business Talk podcast episode 75 for all Michael Griffiths' tips on How to Create a Million Dollar Referral System for Your Business

July 04, 2020
Should I Use Hastags on Facebook in 2020. Finally, Facebook is coming to the party with hashtags. Search has always been a big problem for Facebook and they are finally going to embrace hashtags as a way to help their audience search through Facebook gig

June 25, 2020
Take Advantage of the Current Opportunities for Your Business

June 18, 2020
What to Post on Social Media by Cathy Smith. Our attention span is smallest than a gold fish now which is really sad. Now, we need 20-30 touch points before making a buying decision. Make sure you are consistently posting so that they stay top of mind. Ch

June 10, 2020
When we very first start off, we tend to go to networking groups and we tend to do a lot of referral business and that's pretty good. We refer people to people we know, like and trust and they refer people to us. It becomes trying to be known as the perso

June 03, 2020
When Should I Post On Social Media by Cathy Smith. Listen to Small Business Talk Episode 70 for the full episode and all the tips on when to post of social media. Listen to Small Business Talk Episode 70 for the full episode and all the tips on when to po

May 27, 2020
Why Customer Service Needs to Be More Than Lip Service. Customer service tips from Emma Carver

May 20, 2020
Why Social Media Isn't Enough. ocial media is great and should be part of your business marketing however it should not be all of your business marketing.

May 06, 2020
Cash flow is so important, and a lot of that is to do with our mindset. It's one of those things that we forget to address, as business owners to be obsessed so much over the business model and numbers, and we get into the logical side of our brain, but

April 29, 2020
Branding is your identity, it makes you stand out, and it builds trust and makes you unforgettable. We interact with brands every day and so do your customers. Big businesses all started small and the ones that lasted that grew all have strong branding.