Small Business Talk Podcast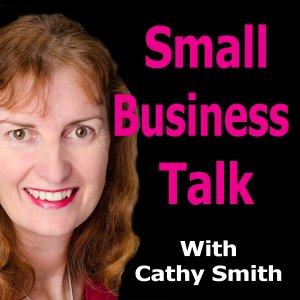 Latest Episodes

January 22, 2020
Rules are meant to be broken is a very odd saying but is it a good practice to live by? There are rules and rules. Some rules should never be broken; they are there to keep you safe and the world in order.  Does your business play by the rules? There a

January 15, 2020
5 Tips To Reduce Stress When Running A Small Business ​ Today we're going to talk about five Tips to Reduce Stress in Running a Small Business with Becky McQueen. We could all use a little bit less stress in our lives, couldn't we? We find that if you do

January 08, 2020
5 Ways to Sell in 2020. You Must Have A Product or Service To Sell. Well, that's obvious. As Brendon Burchard says "common sense is not always common practice" How many social media influencers are making a living, a good living off all these followers

January 02, 2020
Did you take a good look at yourself and your business and wonder whether this whole entrepreneur journey is for you? Listen to Small Business Talk episode #049 to see How to Create a Business You Love with special guest Pauline Bright.

December 28, 2019
How To Get Your Business Ready for 2020. Wow, What A Year 2019 Has Been! Some of you have made great strides in your business and 2019 has been a wonderfully successful year for you. For some, it has been a harder year. Reflections on The Year That Was

December 18, 2019
How to Grow Your Business Without Burning Out with Justine Beauregard. The key to growing any business without burning out is to simplify your marketing strategies as a lot of people feel over-extended which can easily lead to burn out. This involves scal

December 10, 2019
What Tech Do I Need in My Business? All businesses are different and the tech you need will depend on what you do and what you are trying to achieve. Often, we try to overcomplicate our business with tech and it leads to us feeling very overwhelmed. Acco

December 04, 2019
Making Your Marketing More Human​ with Jurgen Strauss. People want to do business with people. In recent years, marketing has become very automated, with everyone wanting their marketing to be easy, with as little contact as possible. The result, a huge d

November 27, 2019
How time management could save your business or your sanity We all live busy lives and the expectation we put on ourselves as business owners is huge. Overwhelm and time management, or lack of, are two things most of us live with daily.

November 20, 2019
The Power of a Collaborative Community to Grow Small Business