Sales Lead Management Association Radio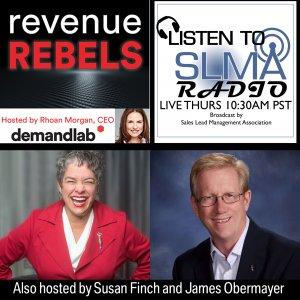 Latest Episodes

September 06, 2019
Lauren Weiner, Executive Director, Marketing at IHS Markit has been through four acquisitions in her career and has some tips, insights, and word of wisdom for marketers. In this episode of Revenue Rebels, we explore what happens in the first hectic mon..

September 04, 2019
  SLMA guest host and board member Dan McDade (recent CEO of PointClear) and now of Prospect Experience interviews Karen Hayward a managing partner of Chief Outsiders on the subject of what separates winners and losers in the revenue wars. The interview..

September 01, 2019
  Program host, Jim Obermayer, read a recent press release from LeadMD and what caught his eye was the 133% growth figure for their year over year sales so far in 2019.   "Why" is the question Obermayer asked the company.  The answer prompted the intervi.

August 28, 2019
When sales reps are hired, they are often tested for sales skills and personality traits. References are checked, previous employers called, they are trained on the products and considered ready to sell. Yet, the number one skill is overlooked: the abil..

August 14, 2019
In this interview with Pamela Muldoon, Revenue Marketing Coach with the Pedowitz Group, we find out that content does have a measurable ROI.  Really, it does. To hear some marketers complain, the ever ravenous bottomless pit of content consuming ne'er-do.

August 05, 2019
As the Global Communications Director at inRiver, Erika Goldwater manages the strategy and execution of the demand generation, communications, social media, and content marketing programs. She has extensive experience in several companies and has learned.

August 01, 2019
  This month on Revenue Rebels, Rhoan Morgan welcomes two guests from Lola.com, Jeanne Hopkins, CMO & Ryan Ball, VP of Sales. This episode will provide listeners with tips for improving alignment between two of the most important business functions–mark..

July 23, 2019
The sales pipeline, aka the sales funnel is the long-standing measurement of the past, present and future for a company.  In the not too distant past marketing dumped demand into the beginning (top) of the pipeline and sales took responsibility for the ..

July 17, 2019
Events, trade shows, corporate showcases, and user events have grown dramatically in the last five years. And yet, the need to measure event performance beyond the ego boost of having the event is often evasive. The C-suite wants to measure the ROI for ..

July 09, 2019
This is part 2 of an interview with Kristy DelMuto, VP of Strategic Marketing at LLR Partners. If you missed the first interview, we suggest you listen to it here. This continuation goes into specific tactics. Some of which your team can EASILY help you..