Retire South Shore Radio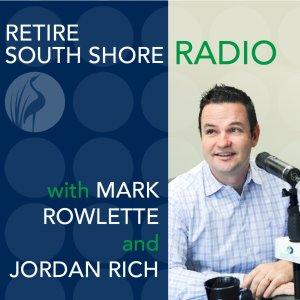 Latest Episodes

May 09, 2021
On today's podcast, Mark explains the benefits of the TSP or Thrift Savings Plan for those entering retirement, as well as other savings options for you! Click here to learn more about Mark Rowlette, founder of South Shore Retirement Services.

May 02, 2021
Staying on top of your retirement plan is as easy as staying in touch with South Shore Retirement Services. Today Mark explains why regular "checkups" matter and how you can enjoy a happier and more secure retirement by reviewing your plan periodically...

April 25, 2021
Mark discusses the benefits of having qualified professionals keep close watch on your retirement plan, particularly when there are tax and economic changes in the wind.  South Shore Retirement offers help with our "retirement stress test.

April 18, 2021
Navigating retirement planning can be confusing and yes frustrating.  On today's podcast, Mark presents an overview of the "All Hands Analysis" approach offered by South Shore Retirement Services.  From estate planning to income growth,

April 12, 2021
There are many questions people have when facing retirement. You can rely on quality professionals from South Shore Retirement Services to answer those questions and keep you informed of changes in the law and tax plans that can affect you.

April 04, 2021
Today, Mark and Jordan discuss your personal goals in retirement.  South Shore Retirement Services believes keeping those goals front and center should be top priority.   Spending more time with family, traveling, buying a summer home,

March 28, 2021
Planning ahead when it comes to your retirement is vital, but it shouldn't be overly complex. In today's show, Mark reminds us about the need to consider such things as the Massachusetts inheritance tax and widow's penalty.

March 22, 2021
By thinking about and planning for your future in retirement, you can greatly ease the worry about money and enjoy a much more satisfying life. Mark talks about the forward-thinking approach he and his team takes to avoid pitfalls and maximize success....

March 14, 2021
Mark breaks down the five key questions you should consider when it comes to retirement planning.   Certainly financing is important.   Mark and his team want to insure that you NEVER have to worry about money in retirement.

March 07, 2021
There are some pitfalls and wrong turns you should definitely avoid when it comes to retirement planning.  Today Mark discusses the major mistakes people make and how to avoid them. Click here to learn more about Mark Rowlette,