It Aint Weak to Speak with Sam Webb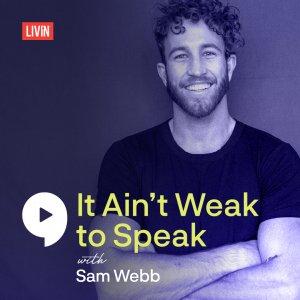 #44 Linzee Belle Speaks On Finding Her Way Out of the Darkness
April 27, 2021
My guest today, Linzee Belle, shares her story of how childhood trauma and abuse conditioned her to have a foundational belief that she was unworthy and unloved. She talks about how this played out in her life with an addiction to food, bulimia, unhealthy relationships and the need to work harder to find acceptance and love. After losing both her brother and sister to death prematurely, Linzee's life hit rock bottom. She shares how she let this pain fuel her to move forward and how returning to meditation and breath work assisted her to know she was moving on with her siblings, not without them. A must listen podcast for anyone going through significant challenges in their lives.
Please rate and review the podcast if you enjoyed it. Much Love, SW.
For the full show notes and to learn more, head to www.livin.org
@livinorg @linzee.belle #itaintweaktospeak.
Join us on our Facebook Group www.facebook.com/groups/itaintweaktospeak/to share your story, breakthroughs, challenges, and to connect with other people to learn more about positive mental health.
---
Download Episode