It Aint Weak to Speak with Sam Webb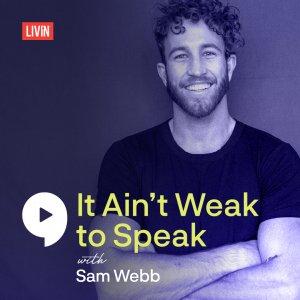 #34 Ben Steel Speaks On Overcoming Rejection & The Entertainment Industry
December 05, 2020
Behind the glamour and excitement of the entertainment industry, there is an alarming dark place where many creative people find themselves.  Research shows that within the industry, anxiety symptoms are 10 times higher, depression 5 times higher and suicide rates are double the national average. International actor, film maker and mental health advocate, Ben Steel joins me today to discuss his own journey with mental health and the challenges that many creatives like him are facing.
Sam and Ben discuss the audition process and how they deal with the constant rejection that goes hand in hand with being an actor.  They talk about the pressure put on creative people and how it's so easy to take things personally and Ben shares what he has learned about how to deal with his emotions and feelings as they come up. For anyone interested in pursuing a career in the entertainment industry, this episode is a must listen for you.
Please rate and review the podcast if you enjoyed it. Much Love, SW.
For the full show notes and to learn more, head to www.livin.org
@livinorg @iambensteel #itaintweaktospeak.
Join us on our Facebook Group www.facebook.com/groups/itaintweaktospeak/to share your story, breakthroughs, challenges, and to connect with other people to learn more about positive mental health.
---
Download Episode