Gridiron Heroics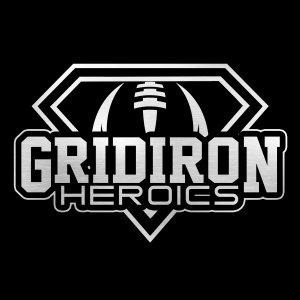 Wk 8 Midweek + Ravens v Buccaneers Preview w/ Splash Potts
October 27, 2022
Today on the Gridiron Heroics Football Show, Max Dean is joined by a slew of guests! Kicking things off, Julius Luchs joins the show to present some News Tidbits, and then it's Dr. Kyle Trimble of Banged Up Bills for the Injury Report. Next, Reagan Harris of Gridiron Heroics hits his weekly spot on the CFB Update, followed by Matthew Brown for Fantasy Fallout. For the finale, Max hosts "Splash" Potts of uSTADIUM and Splash Rants to Preview the Ravens v Buccaneers TNF matchup. You can also catch all of Max's Midweek Segments on YouTube every Wednesday! See below for full episode details.
Big Thank You to our partners: PlayAction Pools, our favorite platform for Sports Pickems and Pools!
Enter the Gridiron Heroics Official Pick'Em Pool for free here: https://playaction.pub/ heroics
To get 15% off starting your own Pick'Em, use Promo Code heroics
Special thanks to our producer Noah Ashley of Gridiron Heroics!
-News Tidbits w/ Julius Luchs of Gridiron Heroics
-Injury Report w/ Dr. Kyle Trimble of Banged Up Bills
-CFB Update w/ Max Chadwick of PFF
-Fantasy Fallout w/ Matthew Brown of Gridiron Heroics -Cardinals v Saints Preview w/ Ross Jackson of Locked on Saints
Twitter:
-Gridiron Heroics: @GridironHeroics
-Max Dean: @TheMaxDean
-Julius Luchs: @gotjuice44
-Dr. Kyle Trimble: @BangedUpBills
-Reagan Harris: @OKSTMart
-Matthew Brown: @sorcerermatt
-Splash Potts: @MrSplashMan19
-Noah Ashley: @Noashtraysports

---
Download Episode