Bariatric Surgery Success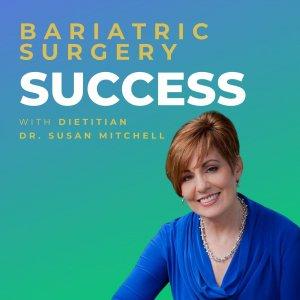 #146 What's the Difference between a Distorted Body Image & Body Dysmorphic Disorder?
September 06, 2023
Do you worry and obsess about how you look? Over something in your appearance that bugs you, but yet to others, is minor or not even noticed? Does it bother you so much that you can't stop thinking about it? Maybe you feel so anxious about it, that you even avoid social situations. Bariatric psychologist Dr. Connie joins me to explain the difference between a distorted body image and body dysmorphic disorder. You don't want to miss this episode.
Visit Procarenow.com for all of your vitamin, calcium and protein needs. Use Code: Susan10 to save 10%
You can share the message of hope, healing and transformation with your purchase from NewHopeGirls.com Use code TRANSFORM to save 15%
Website: http://www.conniestapletonphd.com
BariAftercare: The Podcast; available on phone podcast apps, Apple podcasts and most other podcatchers 
Mind Prep The Book: How To Prepare for Bariatric Surgery and Live as a Healthy Post-Op: Mind Prep: The Book
BariAftercare Daily Progress Journal 
Questions that Dr. Connie and I discuss in this episode:

People talk about having body dysmorphic disorder after bariatric surgery as they lose weight quickly and no longer recognize the person they see in the mirror. But is this an accurate description of what body dysmorphic disorder or BDD is?
I want to focus on the words 'imagined defects'. Other people don't notice this issue while you totally obsess over it. This is specific to BDD, right?
What are the main causes of BDD?
Let's look closely at some of the warning signs that you might have body dysmorphic disorder.
Dr. Connie, what symptoms do you most frequently see in your practice?
What about muscle dysmorphia in men?
At the beginning of our chat, I mentioned that people lose weight quickly after WLS and often struggle to recognize their smaller body as their own. This is NOT body dysmorphic disorder. What do you call it?
How would you describe the differences then between BDD and distorted body image?
How does treatment vary between the two and what type of help should you seek?
What important message do you want to leave us with? 
---
Download Episode