A Small Voice: Conversations With Photographers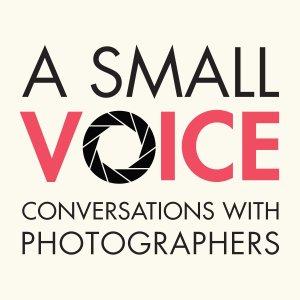 Latest Episodes

August 15, 2023
Ukranian artist Yelena Yemchuk on the immigrant parent bullshit story, discovering her calling at art school, Smashing Pumpkins, returning to Ukraine in 1990 and how on visiting Odesa for the first

August 02, 2023
Magnum Photographer Moises Saman on the catalyst that was 9/11, learning the ropes in Afghanistan, his eight days captive in Abu Ghraib prison, surviving a helicopter crash, the myth of objectivity, t

July 19, 2023
Dublin-born, UK-based Irish artist Trish Morrissey on family albums, body language, the performative side of her practice and exploring the female experience.

July 05, 2023
American photographer Curran Hatleberg on saying yes to everything, being open and vulnerable to what might happen, trying to capture the 'atmospheric intensity' of Florida in Summer and how he learnt

June 21, 2023
French documentary photographer Bertrand Meunier on climbing, China, the reverse angle, memory and passion.

June 07, 2023
A special report from the annual Chico Hotsprings Portfolio Review which took place in Montana, USA in March.

May 10, 2023
Irish photojournalist Ivor Prickett on how he got started, needing to get closer to the source, Mosul, Ukraine, the times he wanted to quit and why he didnt and the implications of AI for photojourna

April 26, 2023
American photographer Stacy Kranitz on the grey areas, violence as catharsis, blurring her professional and personal lives, stereotypes and representation and how she accidentally ended up living in

April 12, 2023
Russian-born New York-based Igor Posner on his night walks, the New York Photo League, the language he employs, his two books and how his mum inadvertently sabotaged her own hopes by gifting him a cam