WellSeekers with Lucia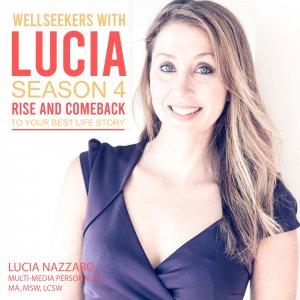 Lucia at Night: How to Nourish Yourself Well After a Break-Up or Divorce
December 15, 2019
Divorce and break-ups have the power to challenge our foundations and can cause major stress and the feeling of loneliness and loss. That transitional time is instrumental to incorporate positive coping skills, stress reduction, and ways to treat yourself well in order to heal get back on your feet. So how can we nourish ourselves after a break-up or divorce? And how can you come out the other side stronger and more resilient than before?
On today's show, we are de-stressing and de-compressing from the anxiety of it all and offering you a safe, informative and fun look into self-care and life after a break up. Lucia and her crew will share their own experiences with break-ups and loss, and welcome guest Dr. Anna Kress, clinical psychologist, to the show to help us navigate it all.
Close the door on your day and bring some light, care and love into your night on the latest episode of Lucia at Night!
For more about Dr. Anna visit her website: drannakress.com
Find Us on Social @WellSeekers and @LuciaAtNight
Follow Lucia on Instagram @LuciaNazz
WellSeekers is great for mental health, holistic well being, stress, anxiety, self care, relationships, healing, growing, connecting, love, and life.
---
Download Episode