The Great Shalom Podcast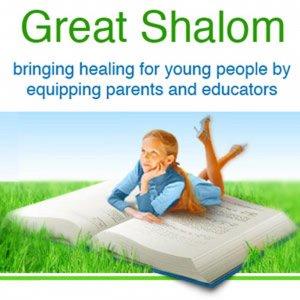 Latest Episodes

January 25, 2020
Ted Edwards, MD tells how forgiveness is a secret power for healing and health.

January 16, 2020
Maybe my most favorite cast of the past. We are all about encouraging you. Please be encouraged to have faith that God does want total well-being for your children. Whether you find a totally miraculous healing or miracle situation,

January 07, 2020
Following our reflection on the children killed by Herod, let's replay this episode from 2010 or so. A local young man talks about his father, who was, btw, not just a children's author but respected as sort of a prophet in town.

January 02, 2020
As so many do, I consulted about the next year and will share what I heard.It will be a year of increased vision and clarity. It won't all be pretty, but victory is in the offing. The time is now. Also, I'm making the announcement of a re-branding o...

December 26, 2019
Wow! I'm getting new things to share with you, with some encouragement. We already have made the announcement that we are going to do some re-branding, but wanted to squeeze this in. This is Bible revelation.

December 19, 2019
Of course we take precautions so that our Christmas gifts are not all stolen. But we are being robbed of the very best one. What is the best Christmas gift of all time? ?The Lord, Emmanuel, God with us. And it has been given to each one of us? Yes.

December 12, 2019
Shelby gave her testimony back in 2009, at about this time of year. I remembered it and so thought I would share it again. - It is important to think about young people. How is it that they are so overlooked? -

December 05, 2019
This is gift buying season for most people. Please let me suggest the idea of thinking bigger. Not just getting a bigger bike! No! Think not about spending more money or making a bigger splash for a moment. That fades very quickly.

November 28, 2019
Once again, I recommend books you may wish to give as Christmas gifts. I have picked out some boos for the very young, elementary school aged, youth, and adults. Some are not specifically religious. All will be character building.

November 21, 2019
Reminding you about the benefits of traditional holiday foods. We unpack the healthful benefits of the food we eat at Thanksgiving -- like sweet potatoes! They improve body and mind. Just add salad, too, okay? Feel good. Cook well. Enjoy.