Becoming NEXTonSCENE™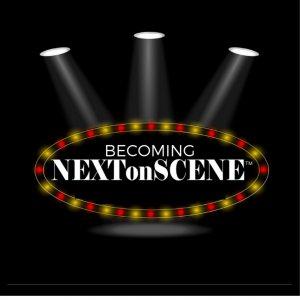 Latest Episodes

April 27, 2020
Talk about a multi talented rockstar.. SHABRANAE the founder of Anchor'd Inc. Is ONE to know. She is writing her first book, has a home collection and full online boutique which gives back a percentage to sex trafficking survivors She is teaching entrepr.

April 20, 2020
Who is NEXT?! Diana Aliberti!   Diana is a Senior Sales Director & An Independent Beauty Consultant at Mary Kay!   This year to day 21 years in the business, Diana has earned her amazing customized Mary Kay pink Cadillac!

April 13, 2020
Deborah is known for her starring and supporting roles in "Footsteps" and "Footsteps 2" on PBS, the film "You and Your Decisions", and countless national Theater productions! This energetic bilingual Panamanian American performer has been acting and danc.

April 06, 2020
YES you read that right, today on the podcast we interview the inspiring JUDI 411!   Judi is a storyteller and writing problem solver! She helps business owners get their story out of their head, on to the page, and into the world! Ready for some laughs?.

March 28, 2020
During times like these, if you are not starting to build relationships online, NOW is the time! :) 

March 22, 2020
Founded by Julie M. Costa, The Sweat Republic is a community connecting fitness and wellness pros so they can collaborate and grow their businesses! This amazing event brought in 200 women in the room inspiring one another. There was also an awesome vend.

March 15, 2020
Who is NEXT? Image Consultant, Ginger Burr! Ginger has been helping women over 40 transform their lives and build their confidence through their wardrobe and personal style for over the past 30+ years!  This NEXT Image Consultant, based in Massachusetts .

March 08, 2020
Who is NEXT?! Ariadna Arredondo! Ariadna is the founder of The Always Believer blog, podcast and community.   Ariadna LOVES to help people, make them laugh and feel wanted. She knows you deserve to shine and follow your passion. This is what she is  all.

March 02, 2020
Who is NEXT? GiGi Diaz! This serial entrepreneur and iHeartRadio personality in multiple markets is ONE to know!!   Today on the podcast we learn from this gorgeous inspiration on TOP THREE ways to change your mindset to not only turn your day around but.

February 23, 2020
Aren't you ready to learn about real estate trends for 2020? Ali Joyce is one rockstar to know. Ali is not only top in her company with Jack Conway, she has made 20 million in sales in 2019! Aren't you ready to learn how to STAND OUT in your field, trend.