WellSeekers with Lucia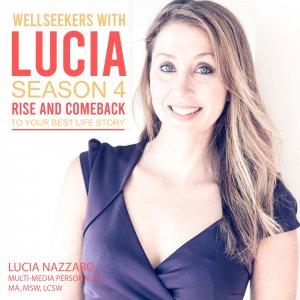 Rise & Comeback From Addiction With a New & Innovative Treatment
February 22, 2021
Welcome back to WellSeekers as we kick off a new six part series focusing on addiction and recovery. We'll share amazing conversations, personal stories, and most importantly solutions; all from a holistic perspective. We'll not only talk about addiction and treatment, but also topics such as relationships, nutrition, exercise and fun in recovery. We'll even talk about policy and what you can do from a policy perspective.
On today's show, we couldn't be more honored and excited to welcome Dr. Shelley Halligan, Vice President of Integrated Health Services at Aware Recovery Care. Aware offers an innovative and unique approach in treating addiction. Join Lucia and Shelley for an honest and open conversation about breaking down the barriers to treatment, the stigma around addiction and recovery, and the trauma related to addiction. With a truly unique approach to treatment, Aware Recovery Care is an amazing organization pioneering in-home mental health and substance use disorder treatment. Their philosophy is to help people "Recover Where You Live" with an emphasis on the home or transitional living environment, unique family dynamic, and the broader community around the individual.
Visit https://www.awarerecoverycare.com for more information and join us now on WellSeekers!
Find Us on Social @WellSeekers
Follow Lucia on Instagram @LuciaNazz
WellSeekers is great for mental health, holistic well being, stress, anxiety, self care, relationships, healing, growing, connecting, love, and life.
----------------------------------------
WellSeekers with Lucia is a podcast exploring how to find your own story of well from the mind down focusing on holistic mental and emotional health, relationships, and wellness topics.
Lucia Nazzaro, MA, MSW, LCSW, is an Emmy nominated multi-media storyteller, professor and expert. She works to create ways to help individuals & society find their story of well with a special focus on how we can rise and comeback from life transitions (both considered positive and negative), relationship issues, and issues that surround the human condition and ways to thrive in the face of adversity and challenge.
---
Download Episode