WellSeekers with Lucia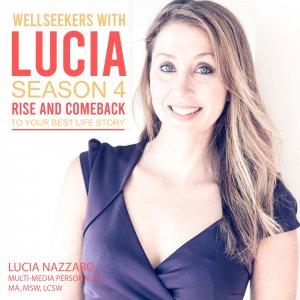 The Power of FUN to Rise and Comeback!
May 03, 2020
For the first time in history, right now everyone across the world, all together, all at the same time, are living through the coronavirus COVID-19 pandemic. And accessing joy is one of the most important and powerful tools we all have that can help us not only survive in difficult times like these, but also thrive in good times.

On today's show, Dave Raymond, the Original Phillie Phanatic and Key Note Speaker, joins us for an inspiring, personal and fun conversation about positive psychology, his own remarkable journey, and well... FUN! We'll talk about the benefits and biological affects fun, play, and freedom has on your body. Lucia and Dave also share simple and real things you can do right now to access your own happiness and your own power of fun.

​So join us now this very special episode with legendary mascot and professional fun expert to reduce stress and anxiety, to live better, happier and healthier for your rise and comeback through these times of challenges and crisis!
For more about Dave find him on Instagram @daveraymondspeaks
visit his website daveraymondspeaks.com
and be sure to check out his YouTube Channel where is introducing his new FUN initiative:
YouTube/DavidRaymond
Find Us on Social @WellSeekers
Follow Lucia on Instagram @LuciaNazz
WellSeekers is great for mental health, holistic well being, stress, anxiety, self care, relationships, healing, growing, connecting, love, and life.
---
Download Episode