WellSeekers with Lucia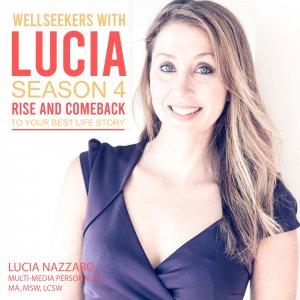 Lucia at Night: Living More Stress Free at Home with Special Guest Mary Joyner
March 02, 2020
On today's show, we're helping you close the door on your day and light up your night by helping you be less stressed out, anxious and depressed in spite of what is happening at home. We're excited to welcome back special guest and good friend, Mary Joyner! Mary is the Founder & CEO of Flo-Jo Forever and daughter of fastest woman on earth, Florence Griffith Joyner. Mary is also a mother, artist, designer, athlete, and professional recording artist and she is sharing with us how she handles stress and the amazing lessons her mom taught her on dealing with stress under tremendous pressure!!! Mary also shares with us about her brand new company Flo-Jo Forever that honers her mom.

Also, Lucia and her crew gets personal on de-stressing at home, the importance of fun, dating on dating apps, favorite tv shows, and home security??! So close the door on your day and light up your night, with connection, care and love on the latest episode of Lucia at Night!
Find Us on Social @WellSeekers and @LuciaAtNight
Follow Lucia on Instagram @LuciaNazz
WellSeekers is great for mental health, holistic well being, stress, anxiety, self care, relationships, healing, growing, connecting, love, and life.
---
Download Episode