Vibrant Visionaries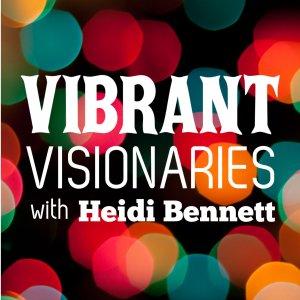 Episode 31 – Kate Byrne on Designing Events that Inspire Compassionate Camaraderie
January 13, 2020
Kate Byrne is the president of Intentional Media, who's brands SOCAP, Total Impact and Conscious Company Media, through the power of story-telling and events – connect, educate and inspire people to intentionally run their business for good. Kate and I discuss creating retreats and summits designed to support women in business with camaraderie, compassion and lots of laughter.

Conscious Company is presenting the World Changing Women's Summit in Sonoma, California from January 29th through the 31st 2020 and both Kate and I will be there! Check out the inspiring list of SPEAKERS and…

Use my promo code VIBRANT to get $200 off the ticket price.

About the event:

At WCWS, a powerhouse group of women-identifying leaders come together to share wisdom, find inspiration, and connect around best practices for leading and thriving in the conscious business world. The best and brightest will gather for three days to dive deep and have raw conversations about topics such as:

* shifting the paradigm of business toward a system that works for everyone and supports all life. * developing yourself as an authentic, conscious leader.* supporting other female leaders and finding more support for yourself.* bringing more purpose into your work.* moving from surviving to thriving when it comes to work-life integration.* scaling your company while staying true to your values.* creating greater impact in the world.

This episode was recorded in my satellite studio at MGH Discovered Art in Alameda, California

You can always email me at Coach@HeidiBennett.com or stay connected between podcast episodes in our Discord chat room when you join the Vibrant Visionaries Clubhouse. I've set up a comfy virtual living room and co-working space to share our favorite funny finds, cute animal pics, brainstorm, trouble shoot or just check in when we're feeling a little disconnected. A perfect place for self employed creatives to find camaraderie and support.

Do you want to follow through with your creative projects in 2020?

Are you interested in developing a mindful and kind approach to self care so that you avoid burn-out and increase your self confidence?

Then by all means, let's discuss working together!

I'm skilled in a variety of disciplines including Podcast Creative Consulting, Business and Wellness Coaching, Branding, Marketing / PR Strategy and Teaching Mindfulness and Compassion.

Email me at Coach@HeidiBennett.com to set up your complimentary strategy session. We'll discuss the scope of your goals for 2020 and I'll share a customized plan tailor made for you.

Whether you're creating a podcast, bringing a new product to market, opening a studio, shop or restaurant, making a film or comedy special you'll want to start by knowing why you're doing it, who you're creating it for and how you want to go about producing it. Learn more about teaming up with me to Design Your Vibrant Vision HERE

I'm so excited to hear what you're working on and discuss ...
---
Download Episode