A View from the Bunker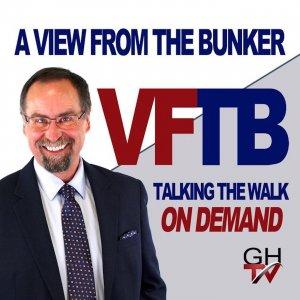 Latest Episodes

June 05, 2022
HOW WOULD you react if travel restrictions imposed during a pandemic kept you from returning home?

May 29, 2022
WHAT WOULD it look like if the apostle Paul lived today? Hollywood veteran David Heavener joins us to discuss the launch of his latest project, The Last Evangelist.

May 22, 2022
THE SONS OF GOD saw that the daughters of men were fair, and they took as their wives any they chose. We're joined again by Brian Godawa, Doug Van Dorn, and Dr. Judd Burton for our latest edition of I

May 15, 2022
AS CHRISTIANS of European descent continue to "desupernaturalize" the Bible, the Gospel takes root in unexpected places.

May 08, 2022
What, where, and who is Mystery Babylon? That's a question Christians have wrestled with since the first century AD. Doug Woodward, author of the new book Will Babylon Be Rebuilt in the Last Days?, ar

May 01, 2022
DOES HELL exist? How would you react if you'd been taken there and then returned to Earth? Bryan Melvin, author of A Land Unknown: Hell's Dominion, shares his account of the terrifying four hours he spent among the denizens of the netherworld and how it

April 24, 2022
MUCH OF the Bible's early history occurred in the land we now call Turkey. Noah's boat landed there, and Abraham—contrary to what you may have been taught—was from northern Mesopotamia, not Sumer.

April 10, 2022
A PIECE of broken pottery connects the Israelites to the destruction of a city immediately after Joshua's "long day." Dr. Douglas Petrovich, joins us to discuss his new paper on the Lachish Milk Bowl

April 03, 2022
SATAN AND his minions haven't been completely united in their rebellion against God. What did this war in the fallen realm look like? Brian Godawa, Doug Van Dorn, and Dr. Judd Burton discuss the super

March 20, 2022
THE EARTH is under imminent threat from a group of hostile extra-dimensionals.