A View from the Bunker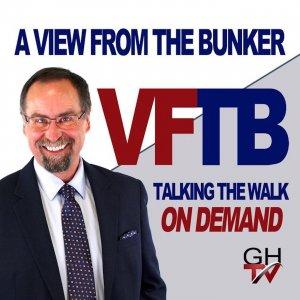 Latest Episodes

December 19, 2022
OUR MOST DIFFICULT battles are not fought in the natural realm. Thats what Paul meant when he wrote, We wrestle not against flesh and blood.

December 11, 2022
THE SPECTACULAR COLLAPSE of cryptocurrency exchange FTX is the latest blow to the battered global crypto market, which has lost more than 60% over the last year.

December 04, 2022
Many of us have experienced a particular type of demonic attack. Most of us dont recognize it for what it is.

November 20, 2022
WESTERN CHRISTIANS have been so desensitized to the supernatural that we usually dont recognize evil when its staring us in the face.

November 13, 2022
ARCHAEOLOGISTS CALL IT the oldest temple on Earth. If thats so, who or what was worshiped there? Dr. Aaron Judkins joins to dicsuss his new book 'Guardians of Gbekli.'

November 06, 2022
TOO OFTEN, we Christians are terrible ambassadors for our king. We prefer that those with the greatest needs clean themselves up a bit before admitting them into our congregations.

October 30, 2022
FAIRY TALES arent all Mother Goose and Snow White. There is a dark side to those stories that can be traced back to the entities in the unseen realm.

October 23, 2022
THE CHALDEANS were the people who created the kingdom of Nebuchadnezzar, the king of Babylon who destroyed the Temple of Yahweh in Jerusalem. The spirit behind his kingdom still influences the world t

October 16, 2022
HOLLYWOOD IS drawing our culture into paganism. There is no other way to characterize the types of movies and TV series coming out of the major studios.