Unearthed: Memphis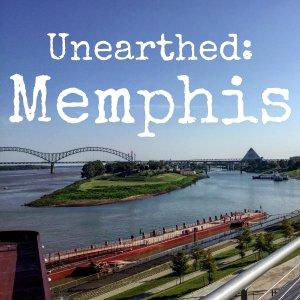 Season 2: Episode Eight: Memphis Hoodoo & St. Paul's Spiritual Holy Temple
October 16, 2021
Since it's spooky season, I thought we could talk a little about a Memphis urban legend…

What do you think is one of the most well known urban legends?

I'd probably say, Voodoo Village. 

That's exactly what I was thinking. And I think pretty much everyone who grew up here or has lived here for any amount of time has heard about or even ventured out to the community known to locals as Voodoo Village.

So what are some of the rumors you've heard about this place?

I've heard that when you drive there, they pull a school bus behind your car so you can't leave. They come out and chase you with bats and machetes. There are dead animals hanging from trees. There are weird yard art objects and masonic and voodoo symbols all around the property. It's all just very strange and spooky. 

I've heard all those things too, and even believed them for a very long time. Admittedly, I was too freaked out to actually go all the way there to see for myself. I believe it was my friend Neeraj and I who ventured that way late one night, but we eventually turned around and came home. 

But years later, I had read a little about the so called "Voodoo Village" and learned it was actually called St. Paul's Spiritual Holy Temple. I have also read it as St. Peter's, but I do believe it's St. Paul's. 

As it turns out, the history behind St. Paul's is more complicated than we thought. To understand it, we have to start with Memphis's beginnings. But I promise we'll get back to it. 

Most of the information I got for this episode was from a book by Tony Kail called, appropriately, "A Secret History of Memphis Hoodoo". This really is a fantastic book. It's informative and a quick read. It made me want to dig deeper into the subject, thus this episode's topic. It's a really cool book. I suggest checking it out. You can find it in the local section at Novel.

Memphis is known by many names. The Bluff City. The Home of the Blues. The Birthplace of Rock n Roll. The Cotton Capital of the World. The BBQ Capital of the World. But it's also called Mojo City. 

The word "mojo" comes from an object used within the practice of Hoodoo. Memphis's Hoodoo history is not extremely well known or frankly understood, that is of course, unless you're actually in the know. 

So we started this episode talking about voodoo and now we're talking about hoodoo. What is the difference?

Voodoo (Vodou), meaning spirit, is considered a religion or religious practice. It is similar to Hoodoo, and in one video I watched, it said that Hoodoo was born out of Voodoo. It was brought from Africa, through Haiti, and then to America during the slave trade. It is a blend of Catholicism and African cultural and traditional beliefs. The type of voodoo we are going to be talking about for this episode is what is generally practiced in New Orleans. 

There is structure and hierarchy in Voodoo. There is one God, but they do not interfere with life. But there are numerous spirits that do, and they call these spirits Loa or Lwa. Each Loa has its own area of life that it is responsible for, for example agriculture or money. Practitioners connect with these spirits when they need their assistance. 

There are priestesses and priests in Voodoo. A popular Voodoo priestess was Marie Laveau. She made a name for herself by helping people from all walks of life in New Orleans. She was a hairdresser by day, but her other "side hustle" was to help people achieve their desires through her voodoo practice. She was known to help black, white, rich and poor people. 
---
Download Episode