I Make a Living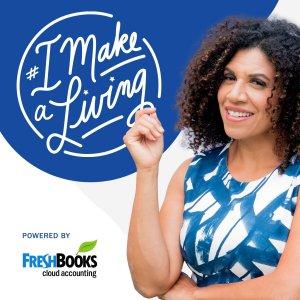 Latest Episodes

January 20, 2020
In this episode, creative business coach Tina Essmaker shares how she faced life-changing moments and decisions that forced her to pivot her approach to business and start a new journey to rediscover her success as an entrepreneur.

January 13, 2020
On the first episode of Season 2, Brant Pinvidic will share how you can deliver a great pitch, compel an audience to actually listen to your presentations and become a master of selling your ideas in 3 min or less.

January 06, 2020
Season 2 of the I Make a Living Podcast launches on Monday, January 13th. Follow us as we continue to explore what it takes to be a business owner in today's world. Our host, Damona Hoffman, will take you on her journey as she sits down with some of North

November 25, 2019
We are back...almost! We welcome our new host Damona Hoffman as we take a look at some of the highlights from Season 1. Season 2 of the I Make a Living Podcast launches Monday, January 13th on a brand new weekly schedule! Stay tuned in December for a snea

July 15, 2019
For our Season Finale, we took on the streets of NYC as we searched for some of the most unique businesses who have "made it". We interview incredible entrepreneurs who found success by thinking outside of the box.

July 01, 2019
Failure- we all fear it and try to avoid it, but inevitably, we will all face it. How do you deal with failure as an entrepreneur? Sam Rosen, a Chicago based entrepreneur shares with us how failure has helped shaped his career and ultimately his successes

June 17, 2019
On this episode, we explore the fascinating and growing world of start-ups. Seth Radman, a serial entrepreneur from Atlanta sits down with us to discuss everything from ideas, solutions, success, failure, funding, to how he writes down every single probl

June 03, 2019
What do you stand for? What is your brand? Today's episode is about discovering who you are as a brand and a business and how you use that brand to leverage social media channels. Our featured guest Beverley Cheng shares her journey on becoming a full-tim

May 20, 2019
How do you take your business from a pipe dream to a fully functioning factory that supports 55 employees? We decided to take our question to the headquarters of PF Candle Co, which is a candle company founded in 2008 by Kristen Pumphrey. She spent years

May 06, 2019
At our last #imakealiving event in Austin, we decided to pick one audience member and match them with a career coach to help them develop their business strategy and growth plan. We recorded the whole conversation for this episode. Today we are talking bu