Teach Me, Teacher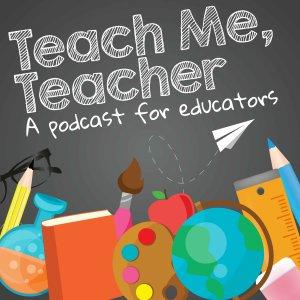 #260 Leading Through Literacy with Matt Renwick (pt.1)
April 25, 2022
Hello everyone! Summer is on the way and that means many of you are eyeing new ways to serve as a leader in your district (and beyond.) But what does it mean to be a leader today? So much has changed over the past few years…is there even a guide anymore?
YES! Matt Renwick, author of the fantastic Leading Like a C.O.A.C.H, is on the show today to talk about his lessons in leadership and his view of principalship today.
In this episode we discuss:
His history and his early days as a "siloed" principal
How he grew into a principal who was supportive rather than purely evaluative
How a focus on literacy has been at the core of his work
…and much much more!
This episode is sponsored by Heinemann—the leading publisher of professional books and resources for educators—and their new classroom resource, Math by the Book by Sue O'Connell and colleagues.
Math is everywhere—even in great children's books! Teachers and students love a good story. But those stories can also help elementary students make sense of important mathematical concepts.
Math by the Book shows teachers how to use high-quality children's books to teach grade-specific math skills and content. You'll find activities, investigations, and teaching strategies…all paired with lists of carefully chosen K-5 literature.
So, if you're looking for a fresh way to bring math teaching to life in your classroom, visit MathByTheBook.com to download a free sample or order a copy. That's MathByTheBook.com.
---
Download Episode