Sing! Dance! Act! Thrive!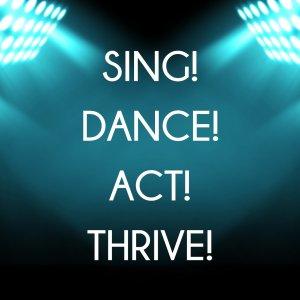 Latest Episodes

February 20, 2020
With a career that spans over 30 years, dancer, choreographer Kevin A. Ormsby has performed with various companies and projects in Canada, the Caribbean, and the United States. He is the Artistic Director of KasheDance, and works as an Arts Strategies Con

February 13, 2020
Toronto born and raised of Filipino descent, multidisciplinary artist Diana Reyes also known as FLY LADY DI, has been rocking stages for over a decade through Dance, DJing and Visual Art.

February 01, 2020
February is Black History Month and there are many events happening across Canada to celebrate.  TD bank held a launch event at Harbourfront Centre in Toronto this week featuring Hip Hop Pioneer Maestro Fresh Wes and Actor Tonya Williams with performances

January 30, 2020
Mentorship with Hip Hop Pioneer Maestro Fresh Wes, Actor/Producer/Director Tonya Williams, Dancer Choreographers Kevin Ormsby, Jaz FairyJ & Jera Wolfe from TD Black History Month Launch & Dancer Transition Resource Centre On the Move Conference.

January 16, 2020
As we are at the beginning of a new year and a new decade I thought that it was a good time to talk about future visioning. By taking a moment to really visualize what you want your life to be like in the future you can better determine the steps required

January 09, 2020
Widely considered one of Toronto's Hip Hop legends, Solitair's many contributions have made an indelible impact on the Canadian urban music landscape, and the music industry as a whole. As Solitair came into prominence as a highly sought after producer, h

December 12, 2019
Erin Pride is a personal dance education coach and she's also the host of the Dance Boss podcast. We had a good conversation about her career as a dancer and dance instructor, but also we share some resources of different books and podcasts that you may b

December 05, 2019
Andrea Hendron is a Life coach, Mindfulness Practioner, Reiki Master, and the Creator of Andrea's Soul Chats. My plan was to do a solo episode talking about future visioning and creating vision boards and as I was preparing I began thinking about my frie

November 21, 2019
Today's guest is Robert Carli, who is one of Canada's busiest and most in-demand composers for Film & Television. His music has received numerous industry awards and nominations, including 20 Gemini and Canadian Screen Award nominations, 5 Gemini Awards a

November 15, 2019
Today's episode is about why do some performing artists thrive while others spend years struggling to breakthrough. I've worked with hundreds of performing artists and the competitive edge for many has been that they have a clear message of who they are a