Seek The Joy Podcast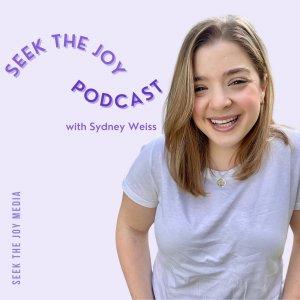 Celebrating Four Years of Seek The Joy Podcast!
October 05, 2021
Today we're celebrating four years of Seek The Joy Podcast! When Sydney hit publish on Seek The Joy Podcast on October 2, 2017, she could have never imagined the show and community would be what it is today.

In today's episode Sydney reflect son the last four years of Seek The Joy, what she's excited about for year five, and she also shares an update and what you can expect in the next few months (big changes are on the horizon, but it's all good stuff!)

Cheers to year five, and cheers to powerful conversations that continue to inspire and empower, to really doing the work to uplift one another's voices, and to choosing unapologetically (sometimes with fear!) to step into our vulnerability and courage, all to seek our joy. 

Links & Sponsors: 

Thank you to today's sponsor, Better Help. We want you to be able to live a happier, more joyful, and ease filled life, and I'm excited to share that as a listener of Seek The Joy Podcast, you will you get 10% off your first month by going to betterhelp.com/seekthejoy. 

Seek The Joy MERCH is here! Check out our fav new designs here  

Subscribe to our Newsletter! seekthejoypodcast.com/subscribe. You won't regret it.
---
Download Episode