Romans Road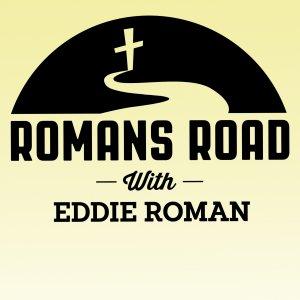 Latest Episodes

June 19, 2021
The homeless population continues to grow. How should Christians respond? By taking a homeless person out to eat, of course! In this episode, Eddie explains the gospel to Chase in Huntington Beach. Eddie Roman's evangelism resources: https://www.

May 26, 2021
What should you do when a female spirit takes your hand and attempts to lead you to the light? Does God have a wife? The Bible actually has something to say about this, and it all came out when Eddie spoke to his new friend, Bad Pappy.

March 23, 2021
Would you believe... the earth is flat and gravity doesn't exist? John Harris of Living Waters Europe continues the unbelievable discussion. Meanwhile, in Iowa, it's almost Tulip Time! Find out what that means, on this episode of Romans Road.

March 15, 2021
Millions of people across America and Europe believe the earth is flat and not a globe. Many of these people use the bible to justify their belief. What in the spherical world is goin on here? John Harris of Living Waters Europe helps us iron out this ...

February 26, 2021
Many people claim to be spiritual, but not religious. In this episode, Eddie speaks with a woman who dabbles in Astrology and admits to making up her own religion. Sadly, when it comes to spirituality, much of America operates this way.

January 31, 2021
Are you upset about the government's sinful ways? Is anyone not upset about that? 2021 is proving to be a crazy year for Christians who care about life, liberty and the pursuit of happiness. This episode of Romans Road features BMX missionary Vic Murph...

January 05, 2021
In part two of Eddie Roman's conversation with Joseph, questions include: Is religion bad? Does the arguing among religions prove religion is bad? Is religion is the main cause of war?

December 29, 2020
Should Christians look to Alcoholics Anonymous for help? AA supposedly began as a Christian organization, but what about the AA of today? In this episode of Romans Road, Eddie speaks with Joseph, a homeless man who spent 18 years as a drunk,

November 19, 2020
Why do Jehovah's Witnesses shun their closest relatives? Nathan Todd Fisher knows the pain of being cut off by family. Eddie Roman: https://www.eddieroman.com Search N Rescue, the book: a guide to evangelism

August 20, 2020
Is hell really eternal? What about the innocent native who never hears the gospel, will he go to hell? While explaining the gospel in Oceanside, Eddie had some serious conversations about hell.  As you would expect, they got pretty intense.