Ride The Fence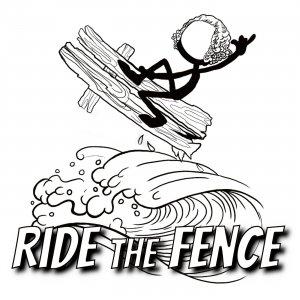 Latest Episodes

March 31, 2021
Biden brings numbered notes with pictures to his very first press conference, AOC rails against those who hold establishment politicians accountable for their actions (or lack thereof), Manchin continues to be the scapegoat of the Democratic Party, Bernie

March 24, 2021
Someone call the Stair Lift salesman because President Joe Biden is having trouble making it up those pesky steps, but sure, watch how quickly he "runs up ramps." In other news, the White House fired several employees and sent others home for smoking mari

March 18, 2021
Kentucky's Senate passes a bill to make disrespecting cops a crime, the Floyd trial begins shortly, the House passes a police reform bill again, Democrats block the $15 minimum wage, an immigration crisis rages on, bills to restrict and expand voting righ

March 05, 2021
Andrew Cuomo has been accused of sexual harassment by multiple people, Biden launched airstrikes against Syria a month after being elected (surprise, surprise), the Senate Parliamentarian blocked the minimum wage as Democrats fail to end the filibuster, s

February 26, 2021
Daniel Prude was lynched on camera in the middle of the street while naked with his hands cuffed behind his back and a "spit sack" over his head, and the officers got away with it. Also, news outlets fight Facebook for compensation, the Democratic Party c

February 19, 2021
The Senate acquits Trump, Kyrsten Sinema kills the $15 minimum wage, the CDC is pushing to reopen schools, China bans BBC, the U.S. sanctions Myanmar, Navanly supporters continue to protest, and more.

February 12, 2021
The Democratic Party uses budget reconciliation to pass the COVID relief bill, the $15 minimum wage may finally pass, prominent politicians pressure Biden to cancel student loan debt, Fox News cancels Lou Dobbs Tonight, the Supreme Court rules in favor of

February 05, 2021
A coordinated effort by Redditors bankrupts billionaire hedge funds, a Myanmar fitness instructor makes a dance video as a military-led coup occurs behind her, Jeff Bezos steps down as the CEO of Amazon, Trump loses his impeachment legal team, Alexei Nava

January 29, 2021
The Democratic Party and the Biden administration have made several grand gestures over the first week of his presidency, but when it comes down to actually accomplishing anything, they fall short. Why? Because they refuse to end the filibuster.

January 22, 2021
Joe Biden is officially the president. Let's see if he can do something different than he has for the past half a century.