Quest for Truth by Life Truth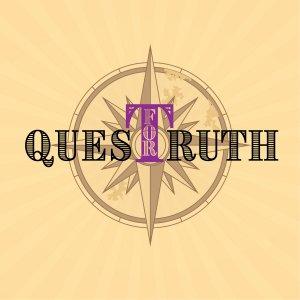 Six Church Basics. (261)
March 16, 2020
What is the church? What should it be doing? Who is in it?

In this short solo episode, Keith shares a few points to describe 6 basics of the church.

* THE CALLED OUT BODY.

* Ecclesia. Greek for the "Called out ones,"
* The church. Universal vs local.
* Nature of the calling. Divine, intended for fellowship, members are called saints,
* How. Through christ,
* A Hope. To inherit a blessing.

* THE HOUSEHOLD OF GOD.

* A Family.
* Relationships. God the Father, Jesus the son, believers are children.
* Blessings. Approach to the father. Christ as our advocate, Holy Spirit to lead.
* Demands. Be spiritually separate from the world, obedience to Christ, love the brethren.
* Becoming children. Be born again, faith shown by baptism, obedience.

* THE KINGDOM OF GOD.

* Governed as a kingdom. It's at hand (near), apostles given authority, living believers are to witness the coming of the kingdom, spiritual, after Pentecost kingdom is spoken in current tense,
* Christ is king. He taught it, he conquered sin, has extensive authority to rule, the law is of grace and truth.
* Citizenship. By new birth, obedient to Christ's law, focused on spiritual kingdom, greatness in serving, united, faith as a child.
* Reference to sower parable and explanation.

* THE BODY OF CHRIST.

* church is christ body. Establishes relationships. Many members one body, jew and gentile reconciled, one lord one faith one body.
* One body. Not many.
* Christ the head. Complete authority, body subject to head.
* Believers the members. Every part strengthens the whole, many united, each with work to do, equally important, care of the others.
* Importance of the members. Made of the saved, called to peace, not separated, reconciled in body, the fullness of Christ, obedience,

* THE TEMPLE OF GOD.
* Where God meets worshippers. OT was a physical temple.
* Spiritual dwelling. NT describes the spiritual temple.
* Built according to god's plans. His blueprint described in NT.
* Christ and apostles are the foundation. Rejected cornerstone, Peter the rock to build on, living stones.
* Christians are building stones. Unbelievers not included, strength in unity.
* THE VINEYARD OF THE LORD.
* Sowing seed. The church is the agency, the gospel is the seed, the seed cannot be mixed.,
* Laborers. Sons, hired hands, rebellious tenants.
* Place of labor. Vineyard, the church. living stones build and strengthen the walls of the building.
* Fruit for god. Proof of discipleship. Unbelief breaks off members (branches).
* Reward at end of the day. Payment judged by Jesus, an inheritance, it cannot be taken or corrupted.

Credits

consider supporting the podcast through our Patreon page.

feel free to drop us an email, use the comments on the show note page, or call our voicemail at (401)7543-4844.
---
Download Episode