JOY Weekend Breakfast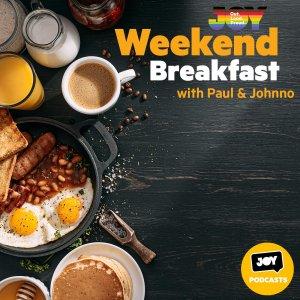 Latest Episodes

October 11, 2021
Very excited to introduce you to SOUNDCHECK with a remix of one of the most played radio songs in history -Natalie Imbruglia's 1997 worldwide hit 'TORN'. - The remix includes Ryan Riback (2.8M monthly

October 05, 2021
Paul McDermott, Australia's original subversive Punk comedian, has just released an electrifying collection of politically-charged songs. The 5 track EP titled "I'VE SEEN THE FUTURE, AND YOU'RE NOT IN

September 20, 2021
Melbourne band The Engagement are back with a timely single 'Heaven So Close', an uplifting anthem about enduring and overcoming obstacles during hard times. Triple J called it "a poppy sugar hit to m

September 06, 2021
Two years ago, before our lives changed forever, The Production Company staged its last production. Ragtime, an Australian premiere, was the company's final show after twenty-one years of presenting m

August 30, 2021
Tobias Madden joins us to talk about his new book, Anything But Fine. - A heartfelt and hilarious Australian YA debut from a rising star. - Luca is ready to audition for the Australian Ballet School.

August 23, 2021
Cassie McIvor joins us to talk about her magnificent performance on The Voice. She gives us the insider view on her journey to this point, and shares some hints for performers who are newer to the ind

August 16, 2021
Who better to help lift our lockdown blues than Lynne McGranger, the actor behind Home and Away's beloved Irene Roberts?! She joins us on JOY Weekend Breakfast.

August 07, 2021
Peter Cumins joins us to talk about the premiere of his original show, and to reminisce about growing up in Perth. After wowing audiences around the world in international productions of 'Mary Poppins

July 03, 2021
Our very first live performance from the soon-to-be-opened-to-the-public Victorian Pride Centre is the fantastic Katie Weston who sings two songs from her upcoming tour "Uninvited: The Songs of Alanis

May 14, 2021
We speak with Tayla Broekman, one of the artists featured in the City of Melbourne's Flash Forward festival of art.