It's All Been Done: A Barenaked Ladies Podcast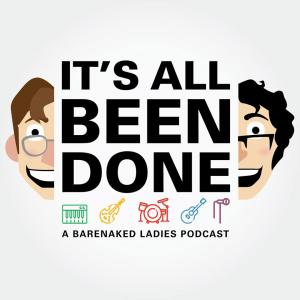 5: Falling For The First Time (with CAP BLACKARD of THE CALL OF CTHULHU MYSTERY PROGRAM)
July 09, 2019
We're falling for the first time, and falling with us is Cap Blackard (THE CALL OF CTHULHU MYSTERY PROGRAM, CONSEQUENCE OF SOUND, LIGHTNING DOGS)! She joins us in discussing our favorite Freddy Got Fingered deleted scenes and the warm ketchup soup that is this song. Fall! Fall in submission to the B-Nakes!
ALSO IN THIS EPISODE:
- Tyler's drums are fun!
- BNL as a crystal from space!
- Let the bodies hit the floor!
- BONUS SEGMENT: TONIGHT IS THE NIGHT I FELL ASLEEP AT THE WHEEL!
Get yourself some IABD shirts! Wear a logo on your chest!
Catch us on the 'net!:
Facebook: https://www.facebook.com/profile.php?id=1593559714014720
Twitter: @beendonepod