It Aint Weak to Speak with Sam Webb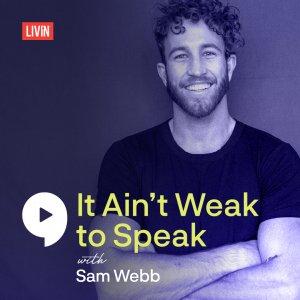 #56 Lola Berry Speaks On Fearlessly Failing
October 19, 2021
In this episode, I am having a conversation with the amazing and innovative Lola Berry. Lola's work experience is incredibly rich and expansive. She has a Bachelor of Health Science, written 11 books, was an entrepreneur in a smoothie business, worked in television, runs a coffee business, hosts a podcast, and so much more. 
We chat about Lola's experience with failing and how she has grown to learn that it's inescapable and a part of our human experience. Her journey through closing businesses, receiving rejection, and learning when to quit (both in business and in relationships) has given her priceless knowledge and intuition that she passionately wants to pass on. 
Lola is a big advocate for the power of therapy. It has supported her through many challenges, but has also supported and triumphed her through the good times. We need to rewire our thoughts to speak positively to ourselves and move forward. 
I'm so excited to say that Lola has shared all of her expert knowledge in her newest book, "Fearlessly Failing", that's due to hit the bookstores on the 1st of November. Do yourself a favour and order a copy as soon as it hits the stores!
Topics we cover and where to find them:
[0:00]: Intro.
[1:04]: Podcast is reaching 60+ countries. 
[2:30]: Introducing Lola Berry. 
[6:27]: Failing isn't a negative word. 
[8:26]: Changing her perspective. 
[9:31]: Make mistakes to grow. 
[9:49]: Part of the human experience is pain. 
[11:26]: Acknowledging in the moment that it sucks. 
[12:55]: Lessons learnt from her past smoothie business. 
[15:41]: Her therapist helped work through her goals. 
[16:52]: Core value of respect is most important in your business. 
[19:12]: There is power in failing. 
[20:39]: Take ownership of mistakes through direct conversations. 
[23:38]: Knowing when to call it quits. 
[25:22]: Identifying gaslighting.
[27:36]: Mantra from 'Friday Night Lights': Clear eyes, full heart, can't lose. 
[29:17]: Always ask 'why' someone says something detrimental. 
[32:15]: Support from a therapist is non-negotiable. 
[33:27]: Therapy is a work-out for your brain. 
[34:54]: Normalize seeking therapy in Australia. 
[37:14]: Keep going to a therapist when you're feeling both good and bad. 
[38:07]: Lola has written 10 books. 
[39:18]: Majored in health science. 
[41:14]: 'The Happy Cookbook' became a bestseller immediately. 
[43:32]: Launching a medicinal adaptogenic hot chocolate. 
[43:51]: Fearlessly Failing is coming out November 1st
[45:47]: Get an entertainment lawyer if you're in the industry. 
[47:20]: You can build your team. 
Like this show? Please leave us a review here - All comments and reviews help us break the stigma of mental health so that we can save more lives. Post a screenshot of you listening on Instagram & tag @livinorg @samwebb so we can thank you personally.
Episode Resources:
Join us at our Facebook Group to continue the conversation and to connect with our community to share stories, access mental health tools and strategies, and to learn more about positive mental health because #itaintweaktospeak.
---
Download Episode