CompTIA EmTechCast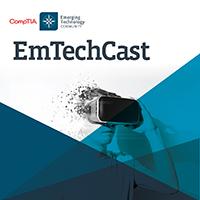 AR and VR with Bob Cooney
March 05, 2019
Serial entrepreneur Bob Cooney works with large family entertainment centers — think trampoline parks, roller coasters and bumper cars, and the big adult gaming centers in tourist spots like the Wisconsin Dells and Las Vegas. In Cooney's experience, emerging technologies like virtual and augmented reality are edging into this space.
"In the second wave of this new VR trend, we're starting to see more commercial operators in large family entertainment centers," he said.
There are still big gaps that need to be filled in the market, though. In this episode of the EmTech Cast, Cooney talks with CompTIA Community Manager Jim Hamilton about the hype over VR and AR in consumer technology, what micro-verticals are paying off and how businesses can make money off these emerging technologies.
"The gap, for now, is companies that can put together that technology so it makes sense for an operator to buy it," Cooney said. "I think there's opportunity there for other companies to come in as value-added resellers."
To keep up with Bob Cooney, visit his website, www.bobcooney.com and find his talks online at https://www.youtube.com/channel/UCrZu7pKpwF72AH7n7Ue49wQ
---
Download Episode