Dear Rochester, Retire Well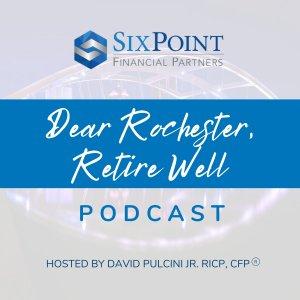 Latest Episodes

September 14, 2021
Financial planning in your 60s is often considered by advisors to be the most important stage of your planning for your retirement.  But many are confused by contradicting pieces of advice from variou

August 17, 2021
Planning for retirement in your forties can be incredibly stressful and overwhelming, which is why many people put off planning for their retirement until they no longer can. This can have financially

August 04, 2021
When you are in your 20s and 30s, a lot of figuring out your finances is trying to figure out where you stand—and what you need to do to achieve your goals. In this episode, David Pulcini and Jesse Cr

August 01, 2021
Are you in your fifties? How do you feel about your financial situation right now? While you're in your fifties, your life is starting to have some new milestones, and big financial and life changes a

July 21, 2021
Medicare can be there to help you pay for unexpected medical costs in the future, but oftentimes the process can be confusing, and it can be easily mixed up with other healthcare plans.  In this episo

July 06, 2021
Do you know the four factors you should be aware of when applying for Medicaid? They are your age, health considerations, personal finances and your own personal motivation behind applying in the firs

June 23, 2021
As we get older, the realities of what it takes to plan for long-term care sets in. But as people start to realize how complicated the process can be, they wait too long and run out of time. This leads to difficulties trying to secure the funding they ...

June 09, 2021
Now more than ever, people are concerned about their financial health and wellness, and whether they will be protected if an unexpected crisis should occur. But for many, understanding the Medicaid eligibility rules can be even more complicated.

May 26, 2021
What is a 403(b) plan and how does it work? Find out with David Pulcini and guest Matt Drummond, national sales director at PCS Retirement, LLC, as they answer your questions and concerns about 403(b) plans and share the most common mistakes their clie...

May 12, 2021
Why is estate planning such an important part of your overall financial plan? In this episode, David Pulcini speaks with Jerry Antetomaso, partner and attorney at Evans Fox LLP, about the value of estate planning.