ChamberCast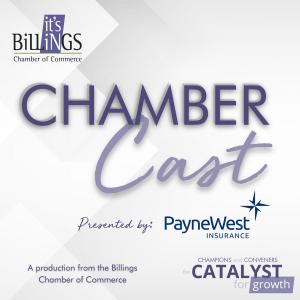 Leadership Billings Alumni Network
August 11, 2021
This week, Jennifer Reiser, COO of the Billings Chamber and Heidi Davey, Business Development Manager at Altana FCU joined us to talk about the brand new Leadership Billings Alumni Network. The Leadership Billings Alumni Network meets the fourth Wednesday of each month and the time varies. The next session is Wednesday, August 25th and will focus on community and social service organizations, and will include a roundtable and small group discussions. Contact jennifer@billingschamber.com to join the network and receive details about time and location.
Marya and Jack's answers to this week's Rorschach questions:
1. Where is your favorite Patio in Billings on a hot summer day?
Marya: Montana Brewing Company or my back patio.
Jack: Since we recorded this episode I got to try Diamond X and I can confirm that it has a very nice patio and good food; this might just be recency bias, but that's my answer.
2. What are the three most important character traits of a great leader?
Marya: Humility, empowering others, and authenticity.
Jack: Leaders need to have a vision of the future they want to lead toward, be willing to compromise, and have some humility about what is and is not possible.
3. What is your biggest pet peeve?
Marya: Slow drivers. People who speak before they think. People who don't do what they say they will do.
Jack: When people don't put their shopping carts away!
---
Download Episode