Black History in Two Minutes (or so)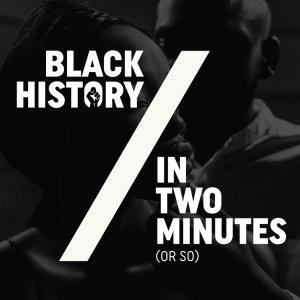 Latest Episodes

January 14, 2022
In 1730, Job Ben Solomon  — a Senegalese man and active slave trader — was captured during an excursion in the Gambian River region. Once stateside, he was imprisoned for attempting to escape from Mar

January 07, 2022
As Black families left the South, their migration allowed them to bring their religion and musical practices along with them. But it would be one man in particular, Thomas Dorsey, who would find himse

December 17, 2021
Jim Crow's separate but equal not only impacted restaurants and schools, but it also led to the segregation of travel on buses. Black patrons in Winston Salem, North Carolina, frustrated with limited

December 10, 2021
In 2019, researchers were able to properly authenticate the last known slave ship to enter the United States illegally. That ship, The Clotida, was found in the Mobile River in Southern Alabama.

December 03, 2021
The lynching of Emmett Till in 1955 became a pivotal point for race relations in the United States. Instead of sitting by silently, his mother, Mamie Till Mobley, opted to utilize the media in a way i

November 19, 2021
Well before formal legislation was passed, promising freed slaves certain land rights, Black farmers traveled west, exploring, and developing heavily forested land. With tons of experience in their po

November 12, 2021
The 15th Amendment was a monumental piece of legislation that gave Black men the right to vote. As a result of it, over 2,000 African-American men would be elected to office at various levels of gover

October 19, 2021
Black soldiers have been an instrumental part of the armed forces since the Civil War. They put their lives on their line for their country and entered war to protect the very land that didn't promise

December 25, 2020
Transitioning from job to job as a teenager, Oscar Micheaux was able to write a story that was inspired by his experience on a farm. The novel, entitled The Homesteader, was published and later adapted into a silent motion picture. With this project,

December 18, 2020
At the turn of the twentieth century, W. E. B. Du Bois curated an exhibit at the Paris Exposition in France entitled "The Exhibit of American Negroes." The exhibition used photographs to disrupt the negative imagery that was used to depict black Americ...