Badass Agile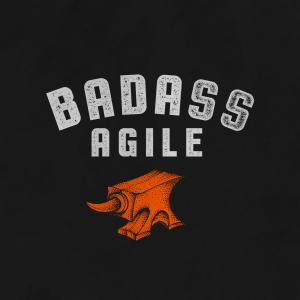 Badass Unscripted - The Truth About Badasses
May 27, 2021
We don't like to hear about it, but there's a certain kind of practitioner who is certain and confident in every situation.  Either they know what to do, or they'll figure it out.  They have no natural predators
Nobody likes to hear it, but there is such a thing as the person who doesn't need rules, instructions, or best practices.  They don't need permission to do anything.  They can't be bought or sold, or bullied.
They have made their peace with their place in the world, their bigness and smallness.  They are prepared to be both right and wrong at once and have no preference for either.  They understand their purpose, how to serve it, what matters and what doesn't.  Because of this, they have a healthy relationship with fear.  They take their energy from it, yet refuse to be limited by it.
And because of this, they have unique, unshakeable confidence and certainty.
What they do is risky and sometimes dangerous - sometimes damaging, but much less so than the alternative - a life of compromise and bending to the will of others.  To popular opinion, political correctness, the latest fashion or causes.
They have a presence, a strength, a charisma that is not the absence of weakness, humanity or authenticity...quite the opposite.  They are a complete blend and balance of the range of human triumph and failure.
They speak directly but only when needed.  They prefer acceptance to attachment.
They are in complete control of their emotions
We don't want to hear about the badass, so we try to discredit their abilities - precisely for the reason why they are so effective - in any given moment, they don't have to try.  But their talents are not innate - They simply fall back on the depth of their training, inner work, courage, and experience.
***JOIN THE FORGE***
Sign up for more info about our online leadership immersion experience.
******
Follow on CLUBHOUSE:
https://www.joinclubhouse.com/club/badass-agile
Don't forget to join us in the Badass Agile Listener Lounge on Facebook for member exclusives, livestreams and previews!
Follow The LinkedIn Page:
We're also on YouTube!  Follow the podcast, enjoy some panel/guest commentary, and get some quick tips and guidance from me:
******
Our mission is to create an elite tribe of leaders who focus on who they need to become in order to lead and inspire, and to be the best agile podcast and resource for effective mindset and leadership game.
Contact us (
contact@badassagile.com
) for elite-level performance and agile coaching, speaking engagements, team-level and executive mindset/agile training, and licensing options for modern, high-impact, bite-sized learning and educational content.
---
Download Episode